Cannondale Bikes: The Future is Electric
Cannondale's entry level, full suspension, eMTB is setting new standards. We test the bike to find out whether it's a track shredder or a corner cutter.
This visually impacting infographic provides an easy to follow comparison between the two flagship MTB's in the Moterra NEO lineup.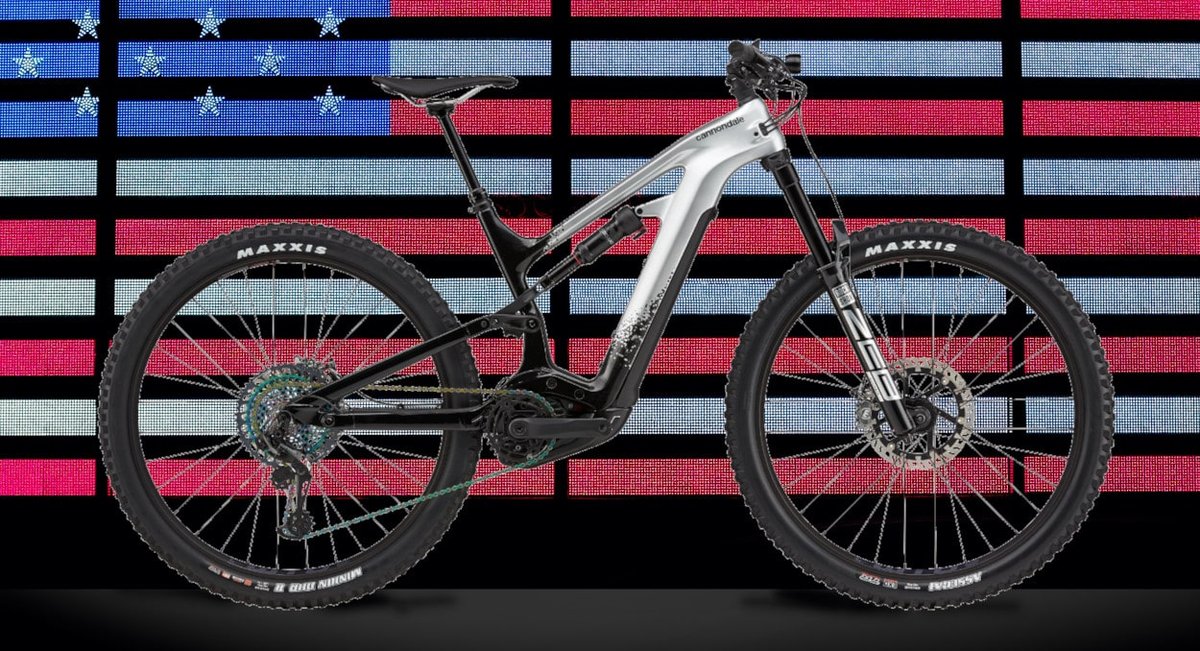 A dive into Cannondale electric mountain bikes, what makes them different, and why you would want one.
Review both models of the Cannondale's MTB flagship, the Moterra NEO Carbon 1, full suspension, electric mountain bike. We evaluate the bike to find out if it stands up to the competition.
Cannondale Bikes: The Future is Electric
With a range of ebikes to suit all riding styles and budgets, Cannondale bikes are known for pushing the boundaries of bicycle innovation and electric bike development.
Cannondale electric mountain bikes offer an incredible experience on trail and enduro circuits alike, and cutting severe downhill is not outside their capability. 
Cannondale bike e-MTBs are quickly gaining recognition among riders looking for exceptional bike performance that won't break the bank.
If you hadn't already realized, Cannondale defines their EV's with the "NEO" suffix. So, an ebike of any description will be tagged as a NEO.
For example, the Cannondale Topstone Carbon range of gravel bikes retain their smooth lines to be branded the Topstone NEO Carbon. The Cannondale Synapse range retain their essential elements to become the Synapse Neo, when fitted with an electric motor.
There are some minor changes in geometry, the aluminum frames, in the transition between a Cannondale bicycle and their electric counterparts. Modifications are required to compensate for the additional power, speed, and weight, of battery and motor. For instance, any disc brake would necessarily have to be more powerful simply for safety reasons.  
Modifications between pedal and NEO cycles are intended to retain the "feel" of the original pedal powered experience as much as possible when out on the open road. 
There are, however, some configurations which depart from the original spec. Cannondale Habit designs are replaced with the Moterra NEO mark, and the Cannondale Quick hybrids are represented by the Treadstone NEO.
The Moterra NEO - Full Suspension Electric Mountain Bikes
Cannondale Bikes offer a comprehensive range of eMTBs with no less than 8 full suspension e bikes in the range. The Cannondale trail selection begins with the entry level, aluminum frame,  Moterra NEO 5, and progresses to the top configurations of the Carbon 1 and Moterra NEO LT.
The durable aluminum frame on every model is available in all sizes, and both men's and women's designs, so riders of all genders can enjoy the speed and performance. 
Cannondale electric mountain bikes are designed to be intuitive and easy to use. 
The Bosch Performance Line CX motors (fitted to the Moterra 3 and above) are cutting edge. These incredibly responsive motors can push out 85 Nm of torque with sensors that measure your pedalling input and adjust the assistance accordingly. 
Every eMountain bike is fitted with powerful hydraulic disc brakes to accommodate the additional speed and weight of the mid mounted electric motors.
The motors interact with the Cannondale smartphone app to advise of suspension and lockout settings, plan trails routes, maximizes battery usage, and suggests training regimes to meet rider goals. The Cannondale app also integrates with running lights and can provide rider alerts to improve safety.
This means that you don't have to worry about fiddling with controls or settings while you ride, you can focus on the trail ahead.
A question that many riders ask is how long the battery will last. With the entry level electric mountain bike, the durable aluminum frame Moterra Neo 5, you can expect to get up to 60 miles of range on a single charge. 
Of course, Cannondale engineers may be a little optimistic here as the exact mileage is dependent on factors such as terrain, rider weight, how often you use the disc brakes, and riding style. Even so, the takeaway is that you can tackle longer, more challenging trails, without having to worry about the battery running out of juice.
One of the most popular models in the Cannondale lineup is the Moterra Neo 5. 
With a 250W Shimano E7000 motor pumping out up to 60 Nm of torque, this entry level eMountain bike can easily tackle challenging climbs. The lightweight, and efficient, Shimano motor can squeeze up to 60 miles range from the 504 Wh battery.
Forks and shocks on the bike target the sweet spot for full suspension enduro rides. Furnished with 140mm of travel in the front and 150mm in the rear, this Trail focussed eMTB is perfect for long, cross country jaunts.
Moving on from full suspension EV's, there are many other ebikes in the Cannondale line-up:
Topstone NEO range of hard tail electric gravel bike designed for country roads, 

Synapse NEO range of endurance road bike 

Tesoro NEO urban ebikes,

Adventure NEO for comfortable leisurely rides

Treadwell NEO range of fun, lively, entry level electric bikes, 

Quick NEO SL. A light and sporty ebike to give you a workout

The Compact NEO. A 20" wheel, convenient aluminum road bike for around town.
Each of these ebike ranges are designed with a different purpose in mind. Whether you're looking for a full-suspension trail bike, an efficient road bike, a gravel bike, or a comfortable commuter with an upright riding position, Cannondale have an extensive and flexible range to suit every rider.
If you're looking for an electric mountain bike or road bike to take your riding to the next level, a Cannondale bike provides plenty of options. Their range of bikes offer a truly incredible riding experience to up your speed with powerful motors, full suspension setups, and intuitive controls at a competitive price.
Whether you're a seasoned trail rider, prefer gravel roads, looking for comfort, or just getting started, Cannondale electric bikes are impressive.
Ultimate Guide to Powered Bicycles
Everything About Power Bicycles
Cannondale Bikes - The Future is Electric
A portal to information, articles, videos, and reviews about Cannondale electric mountain bikes. The page provides detailed analyses of the full suspension, electric power, and intuitive controls, of the Cannondale bike range.
Steve
Power Bicycle
Publisher Logo