Cannondale electric bikes. Elite full suspension mountain bikes
Cannondale electric bikes scream 'elite' to a worldwide audience. They are America's answer to the European dominated ebike MTB market.
Most ebike MTB manufacturers offer a range of bikes to please a wide audience. Cannondale on the other hand, concentrates on top performance, high spec electric full suspension mountain bikes.
The entire range of Cannondale eMTBs are full suspension mountain bikes. All but the entry level spec'd bike boast Carbon frames. These mountain bikes would be excellent to ride without a power plant. But when you add a powerful electric motor and long-range battery pack, they become something truly special.
Are Cannondale Electric Mountain Bikes Good?
The differences in bicycles at the top level comes down to the minor details. It isn't just about geometry, but design innovation and quality of components.
Cannondale ebike MTBs use quality components, quiet, smooth Bosch motors, and Carbon frames, to satisfy e-bike rider's voracious appetite for off-road fun. Their emphasis is on power, range and reliable performance.
How well an individual fits their ebike, along with rider physique, and personal riding style, are important when choosing your ebike. Cannondale understands that taller, heavier riders have a higher Center of Gravity and also buy larger frames for their electric mountain bikes. They change their frame geometry as the frame size increases to account for different rider heights.
They design every change in frame size with different pivot locations and custom shock links to balance performance for the typical rider for that frame. This approach allows Cannondale to provide consistent ride characteristics to a wide variety of riders.
Cannondale is a company that designs bikes with ruggedness and performance in mind. They also cater for different rider styles.
The Cannondale Habit NEO was designed to be a lighter, nimbler electric mountain bike that is perfect for sprints and flatter trails. This ebike features 140 mm front and 130 mm rear suspension to keep it fast and responsive. The bike's quickness will get adrenaline junkies in the zone.
Cannondale frequently revise their model specs, and the Moterra Neo continues to develop. The Moterra Neo offers 160mm shocks and four link suspension to make it an even more powerful mountain climber and a capable downhill speeder.
The Moterra Neo SE steps up the travel of their front even further. The SE spec provides 180mm travel in front, helping it soak up the biggest rocks on the most rugged trails.
The Bosch motors on Cannondale electric bikes turn simple MTBs into trail-blazing beasts that can attack any trail. The high-quality components and innovative design make them one of the top electric Mountain bikes brands on the market today.
Cannondale Mountain Bikes
Cannondale Carbon frame ebike MTBs are light electric mountain bikes with most models around 24Kg. However, even their carbon framed performance models are not ultra-light electric mountain bikes. Rather than shaving grams from every component, the Cannondale philosophy is to ensure durability before weight reduction.
Electric mountain bikes with low CoG results in Cannondale full suspension mountain bikes being more agile than other eMTBs of the same weight. This technique keeps their ebikes nimble.
Using a compact engine and short, 160mm crank arms, allows heavy components to be placed a fraction lower in the frame. Placing heavy items (such as the engine and battery) lower to the ground, results in a lower CoG.
Sensible, well thought out design, such as placing the battery at the front of the frame down-stay, drop the battery a few inches. Many minor design changes add together to push the CoG lower to the deck.
Having less focus on weight reduction allows designers to focus on durability. More durable components provide the confidence in Cannondale full suspension mountain bikes that allows them to back their products with extended warranties. Their Ballis Tech Carbon frames, for example, have a lifetime warranty.
intricate tube shaping.
There is no doubt that Cannondale mountain bikes are among the best eMTBs, but at this price the competition is tough. So why would you buy a Cannondale electric bike?
Cannondale have used compact and efficient Bosch electric drive systems. These motors are the premier choice for electric mountain bike enthusiasts. The 250W Bosch power plant provides a mode of transport that is as fast as a road bike and as light as a mountain bike.
The Bosch Performance Line CX is currently the best motor on the market for riders looking for a pure eMTB ride experience. Bosch recently upgraded their CX motor to provide an additional 10Nm of torque. The Performance Line CX engine now matches the torque output of the most effective 250W motors in this class.
The Performance Line CX has a fantastic overrun feature that helps you power over obstacles. Combined with its rapid response, and intelligent eMTB mode, the motor is the pinnacle of current electric mountain bike motors.
The four-link suspension combined with long travel forks and rear shock provide a comfortable ride. Short chainstays provide a fleet-footed ride while the adjustable geometry of Cannondale eMTB frames lets you change the shape and angle of the bike. Riders can tune the geometry to soften and plant the ebike MTB a little more if they prefer greater stability.
Cannondale continues to be creative with their technical innovations. They engineer an asymmetric chain stay to accommodate the cassette and provide greater clearance between the chain stay and wheel. This design also improves strength in the rear wheel, as the wheel-rim does not need to be offset.
We expect innovations from the Jekyll, and other Cannondale mountain bikes, to find their way onto their eMTB's soon. We also expect the 'Gravity Cavity' from Jekyll mountain bikes to make its way onto ebikes next year.
The Gravity Cavity drops the suspension damper into the bottom of the frame. This lowers the Center of Gravity (COG) while protecting the shock from mud splatter.
Another innovation that we expect to make its way from the Jekyll is the idler pulley and guide which Cannondale calls 'The Guidler'. This simple sprocket and guide lifts the chain up from the chainring. The top of the chain is then in line with the swing arm pivot. This feature allows high pivot swing arms, for smoother suspension, while reducing pedal kickback. A movable Guidler would provide a convenient way to adjust Anti-Squat.
Where most rivals in this market sector opt for lighter components, Cannondale eMTBs favor comparatively longer travel, stiffer, forks and frames. Their choice of components are often a fraction heavier than their opposition. Not having to fixate on weight reduction shifts brand emphasis to increased durability and stability.
The marginal increase in component weight translates into a firmer, smoother, ride, and a more reliable package.
The handling is good across the model range, which inspires confidence on fast trails. Perfect balance of Cannondale ebike MTBs make them easy to control. The suspension geometry provides excellent traction on gravel tracks and in fast turns.
You won't be able to tear into tracks as you would with a regular full suspension mountain bike. But, if you're looking for a comfortable ride with all the features of a high-performance machine, then the electric Cannondale mountain bikes are outstanding.
What Cannondale electric mountain bike should I consider?
There are 6 full suspension mountain bikes in the Cannondale ebike MTB range. Unfortunately, only the Monterra Neo is readily available in the US. The Monterra Neo is available in three distinct options.
My personal favorites are:
The newest entry-level eMTB option is the Monterra Neo 5. This model offers the architecture of the Monterra to a wider audience at $4,500.
There are, however, a few slightly compromised features, other than the inevitable reduction in quality of brakes, forks, dampers and shifter.
The Shimano engine on this model does not provide the torque of the Bosch power plants on other versions.
Cannondale replaces the carbon fiber frame with a C2 aluminum frame adds a little weight which reduces expense at the cost of some agility.
The 504Wh battery, lighter forks, and Shimano motor reduce weight. The weight reduction brings the downhill performance character of this Aloy frame eMTB, into line with higher price Monterra Neo models.
This is a great price to get your butt on the saddle of this exclusive brand.
At $5,800, the Monterra Neon 3 is a well-priced carbon frame ebike MTB with excellent 160mm travel full suspension. Cannondale did not skimp on other components either. RockShox 35 Gold RL forks, deluxe Select R shock, SRAM SX Eagle 12-speed drivetrain are top quality components. The Bosch Performance CX motor is the cherry on top. This Cannondale mountain bike is well-damped and controlled when the track gets rough and the rocks come fast and furious.
The lighter, 500Wh battery helps to reduce weight. There is, of course, an obvious compromise in travel distance.
This is an exceptional price for such a high spec. Carbon frame ebike MTB.
Cannondale ebike MTBs provide some of the most comfortable bikes for rough trails although they lack the outright agility to be classed as speed demons. Cannondale electric mountain bikes do everything well and are excellent for trails, every day commuting, and long rides.
Smooth handling, and stability at speed, allows the rider to focus on having fun rather than looking for the perfect suspension set-up.
Cannondale electric bikes provide the power to take the sting out of those long, steep uphills. They build the power into a light package that remains great fun on downhill tracks.
Electric Cannondale mountain bikes will appeal to a wide group who are looking for an elite brand. They target riders who want a fun and capable eMTB, with high quality, reliable, components.
Ultimate Guide to Powered Bicycles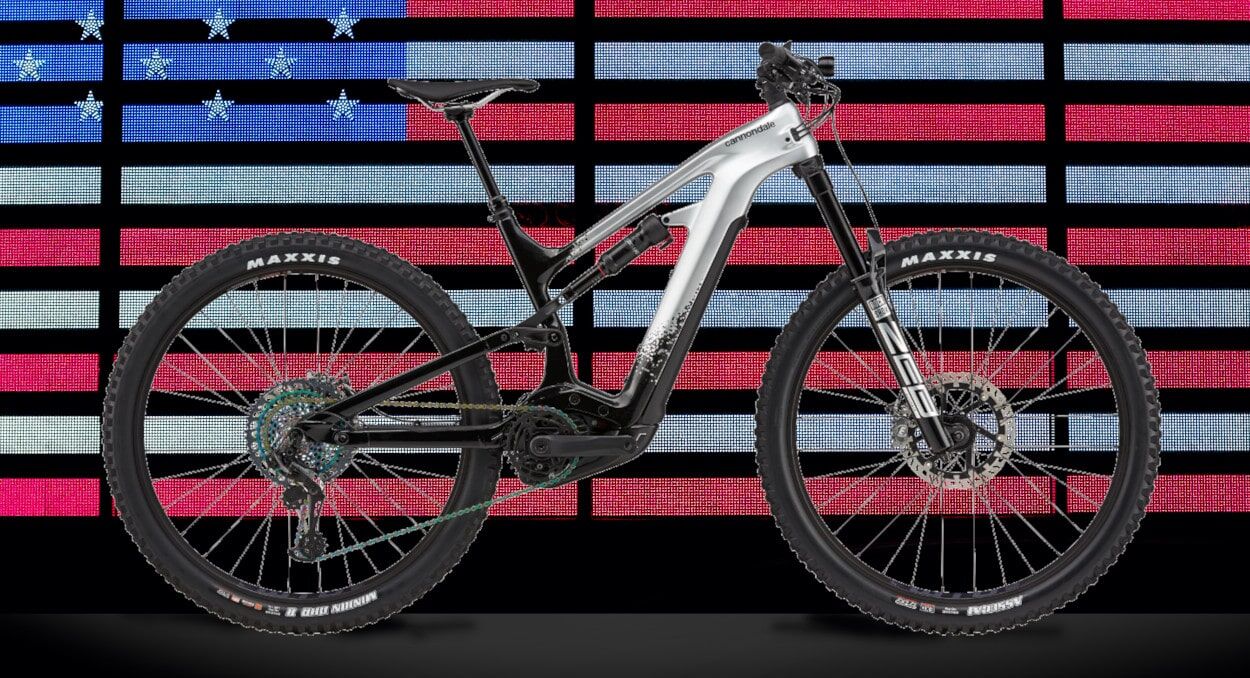 Everything About Power Bicycles
Cannondale electric bikes. Elite full suspension mountain bikes
Are you looking for a bike that can handle anything? Cannondale electric mountain bikes are designed to handle the toughest trails and deliver a more comfortable ride. This article explains why Cannondale electric mountain bikes are the best choice for riders who want an e-bike that can do everything!
Steve
Steve Baillie holds a degree in electronics and electrical engineering and has over 20 years working in the motorized bicycle industry
Power Bicycle
Publisher Logo