NEXT GENERATION EBIKE CONVERSION KITS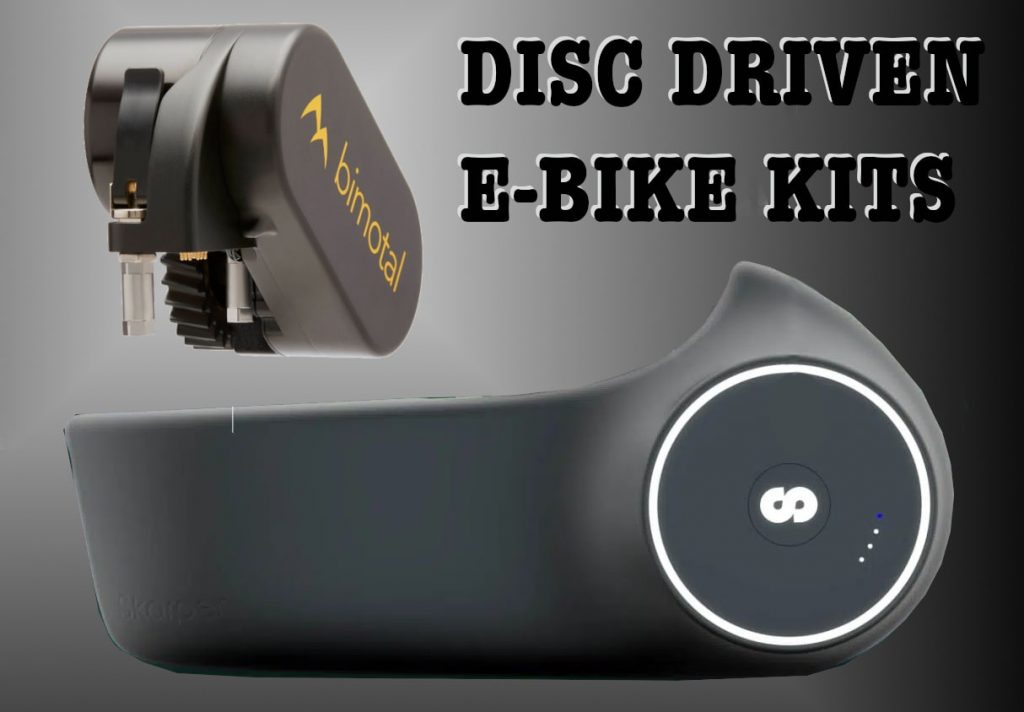 NEXT GEN. EBIKE CONVERSIONS
The thought of fitting an ebike conversion kit to your own bicycle is exceptionally appealing for many. Most of us own a bicycle, so converting your ride into an ebike can make life a lot easier for commuting while making financial sense.
A new era of ebike conversion kits are making their way onto the market. The latest developments of ebike conversion kits seek to revolutionize the electric bicycle conversion industry. New era electric bicycle conversion systems are lighter, more powerful, integrate with high tech displays, are programmable, and are quickly removable.
For the past decade, there have been a good selection of ebike conversion kits to choose from, however, all have drawbacks when compared to purpose built ebikes.
Until recently, there have been four principal types of electric conversion kits:
Front wheel hub conversion kits

Rear wheel hub motor conversion kits

Mid drive electric conversion kits

Friction drive ebike conversions
Now, Next Gen ebike conversion kits (and a new era of ebike drive systems) are entering the market. These ebike drive systems offer flexibility, convenience and a quality that will revolutionize electric bicycle conversion.
Detachable Disc Drive electric bike conversion systems.
ISSUES WITH EBIKE CONVERSION KITS
FRONT WHEEL CONVERSION KITS
Front wheel hub motors are usually the cheapest, and often the easiest, conversion kits to install. Fitting the kit is for the most part, is simply a matter of swapping the front bicycle wheel with a suitably sized motorized replacement. Mount the battery, throttle (or pedal controller), connect the wires and the conversion is complete.
Front wheel ebike conversions are not the best or safest option in many cases. Riders flag a long list of concerns with front wheel drive conversions.
Front wheel drive systems can feel awkward to ride until you get used to them.

The power wheel exert leverage on the steering head which can cause the steering head joint to fail. This is a major safety concern as many riders have been seen rolling down the road after their front wheel and forks have been ripped from their bike.

There is seldom a provision to mount a front disc rotor. If your bicycle does not have calliper brakes then you may have to forfeit your front brake.

There is little weight over the front wheel. This causes the drive wheel to lose traction on hills, wet roads, dirt, and gravel.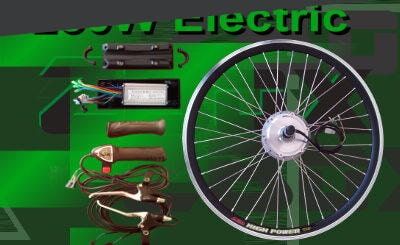 REAR WHEEL HUB MOTOR KITS
Rear wheel hub motor conversions provide a better, low cost option than front wheel conversions. Rear wheel conversion kits are typically around $50 more expensive than their front wheel counterparts but have fewer traction, steering, and safety concerns. Motor power to the rear feels natural, and traction is good.
Motorized rear wheels are not without issues. They can be awkward to install on some bikes.
The hub motor is frequently wider than the hub shell of the bicycle wheel that it replaces, and the motorized axle is thicker. Rear drive electric hub motors normally require a smaller, thinner gear cluster. Expect to reduce a seven speed sprocket to a three speed unit, or even a single sprocket.
You may also have to splay the chainstay to accommodate the wider hub. This can strain welds on the frame and may result in wheel alignment becoming offset or, on rare occasions, welds breaking in the chainstay.
A stronger, thicker drive shaft, usually means that you have to grind the chainstay dropouts to accommodate the wider diameter axle. This can weaken or skew the chainstay if not done with care.
Additional weight in the rear can compromise suspension. Rear hub conversions reduce mountain bike agility making them tail heavy. This is not a major issue for commuters or road bikes, however, it compromises the handling of mountain bikes and enduro machines.
Fitting rear wheel hub motor kits can be a more complex project than initially anticipated.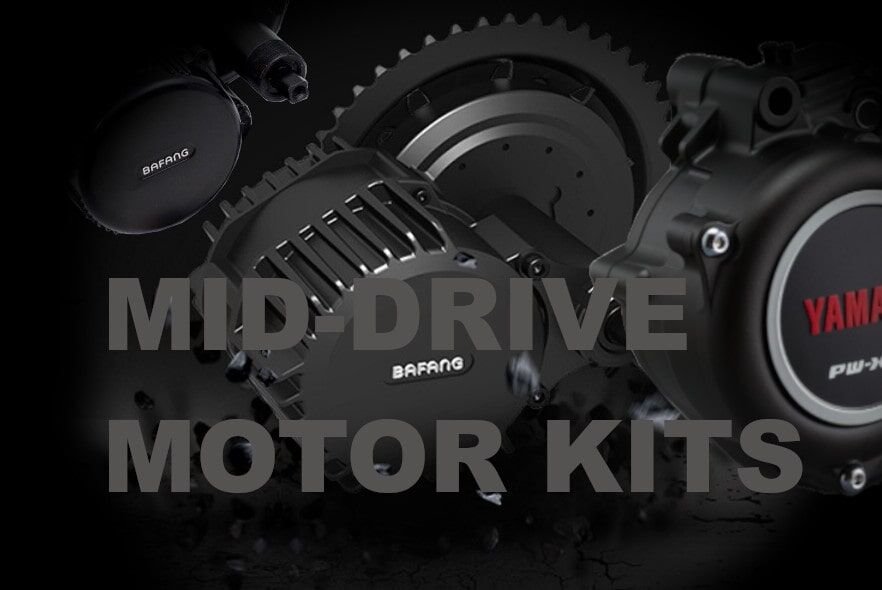 MID DRIVE ELECTRIC CONVERSION KITS
Mid drive ebike conversion kits are the most professional systems. They are relatively expensive and rely heavily on bicycle style.
Mid mount conversion kits are usually designed to replace specific pedal systems and are typically designed to fit into bicycle frames with the most popular styles of pedal crank. There are, however, several styles of pedal crank, many of which are not suited to fitting an aftermarket ebike kit.
Alternatively, if you cannot fit a pedal crank mounted mid drive conversion there are also bracket mounted options. Bracket mounted motors can be complicated, requiring multiple chains and sprockets to drive the rear gear cluster.
The ease of fitting mid mounted conversion kits can be hit and miss depending on the style of bike frame on your bike. Mid drive systems often require additional components such as offset pedal cranks or tailored mounting brackets.
FRICTION DRIVE EBIKE MOTORS
Friction drive motors are simple to fit. They typically integrate battery and motor into a single unit. The weight of the system pushes a small motorized wheel onto the front or rear tire of the pushbike.
Although friction drive conversion kits are straight forward to fit, drive wheels slip under load, on hills, in wet conditions, or on rough roads. They are a very low quality option.
NEXT GEN DETACHABLE DISC DRIVE CONVERSION KITS
DETACHABLE ELECTRIC BIKE CONVERSION SYSTEMS
A radical shift in electrical bicycle conversion design is now emerging. Next Gen kits are becoming lighter, higher quality, rear wheel drive, and, more impressively, quickly removable.
Electric conversion kits from "Skarper" and soon "Bimotal" can be clipped on (and removed) in a matter of seconds.
Let's get into the two front runners in Next Gen electric conversion kits as they have substantially different target markets.
SKARPER ELECTRIC BICYCLE CONVERSION KIT
The Skarper system is a single unit integrating a 250 Watt motor a 202wH battery pack. The detachable unit clips onto the left chainstay. The motor then drives through a specially designed disc rotor that replaces the original.
The Skarper system can pump out up to 50Nm of torque, and is capable of up to 20 MPH (32 KPH) when regulations do not require the performance to be curbed.
The conversion kit integrates the lightweight battery potentially providing a little over 35 miles range (up to 60 Kilometers).
The disc drive unit weighs 300 grams and is designed to replace the existing disc rotor without affecting the rear brake. As standard 180 mm disc rotors are usually around 150 grams, there is a negligible increase in weight when the drive unit is unclipped.
The drive unit and battery weighs 3Kg. This is exceptionally light for a battery and motor combination. By comparison, the latest industry leading lightweight Shimano EP8 motor weighs 2.5 Kg by itself without a battery.
The power unit of the Skarper conversion kit drives the rear wheel by coupling the motor to a specially designed disc rotor.
This unit will appeal to riders because of its simplicity. The motor quickly clips on whenever the electric drive is required, and is quick to remove when the rider prefers a regular pushbike.
Mounting the battery and motor to the chainstay mean that the Skarper kit is primarily intended as an aid to commuters. The unsprung weight of the system would hamper the agility of mountain bikes.
The mountain bike concept would be to use the electric power to reach the trail head and then removing the unit before to revert to a lightweight racer.
The strength of the swinging arm on lightweight racers has been brought into question, however, the system is intended for bikes with rear disc brakes. Chainstays have to be designed to withstand the twisting force exerted by disc brakes. Braking torque is far greater than the drive torque that would be introduced by the motor.
Skarper systems are expected to sell for a little over US$ 1,200.
BIMOTAL ELEVATE ELECTRIC CONVERSION
There is a light, powerful, and flexible development now being shipped in limited numbers by Bimotal. Their detachable ebike conversion kit uses a similar disc drive concept to the Skarper system.
Called the Bimotal Elevate, the systems follows the tradition model of most ebikes with a separate battery and motor. A small, lightweight battery is designed to slot into into the water bottle cage on the bicycle and a short cable then links the battery to the motor.
The detachable motor is fitted onto the brake calliper mounts on the seatstay. The motor then drives a sprocket which is fixed inside a specialized disc rotor.
The Elevate system can also be attached to front forks, however, as noted above, there are a number of drawbacks with front mounted electric conversion kits.
Presently, the Bimotal Elevate system is suited to bikes with externally positioned disc brake mounts. Bimotal are currently working on designs for other style disc brake mount positions. In addition, the system is only shipping in San Francisco at present as professional fitters are not trained in other cities. Bimotal expects to have retailers trained across America in 2023.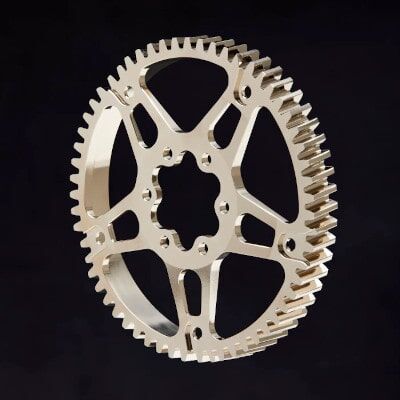 If you want to purchase the Elevate conversion kit a $100 downpayment will pre-order the system. You will have to cough up a total of US$1,950 (including the downpayment) when the kit ready for shipping.
BIMOTAL ELEVATE VS SKARPER COMPARISON
The Elevate conversion kit has several advantages when compared to the lower price Skarper :
More power. The motor can pump out a maximum 750 Watts with up to 100Nm of torque (twice the torque available from the Skarper). The Elevate motor is able to push out the maximum ebike power that legislation allows across the US.

Programmable options are in development. The system will be programmable to comply with class 1, 2, or 3, power and throttle regulations.

Professional fitting is included in the purchase price.

Weight distribution. The Bimotal system separates motor and battery to balance weight across the bike. The lightweight motor minimizes the unsprung weight over the rear wheel.

Multiple battery options. Separating the battery pack provides flexibility. Riders can opt for multiple batteries to extend distance, or easily wire more powerful, aftermarket battery options.
The Bimotal motor boasts an industry leading power to weight ratio. The power plant can pump out up to 750 Watts from the lightweight 2.7 Lb (1.25 Kg) motor.
As the motor is fixed onto the chainstay, there is an adverse affect the traction and handling of any full suspension bikes. Although this is not a concern for most riders, the Bimotal kit does have an impact on mountain biking, enduro, and cross country enthusiasts.
Bear in mind that not all mountain bikers are elite sport personalities. The relatively low unsprung weight of the motor will be acceptable to many mountain bikers. Many riders will be willing to trade the additional weight, and the compromise in suspension performance to benefit from the drive of the 750 Watt motor.
The system also has an advantage for elite eMTB riders. If you covet the agility and performance of a non motorized mountain bike, the Bimotal system can be removed without tools in 20 seconds. The hardware remaining on the bike is a mere 7 ounces (200 grams).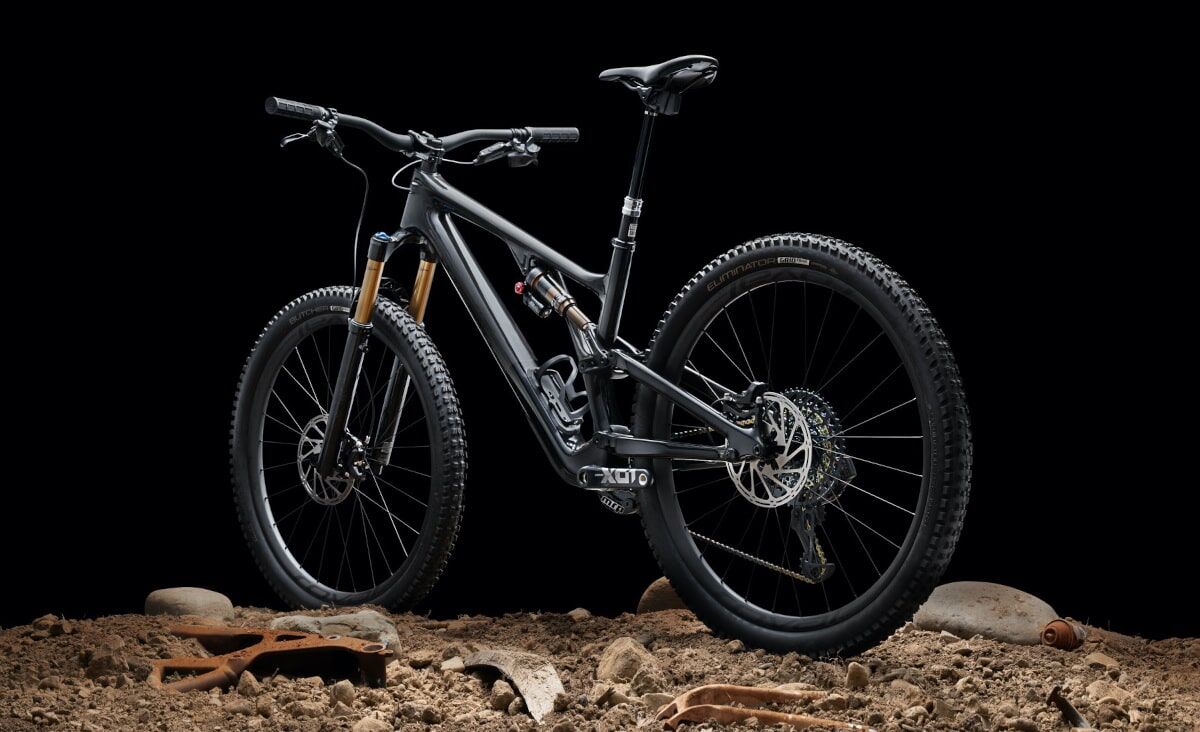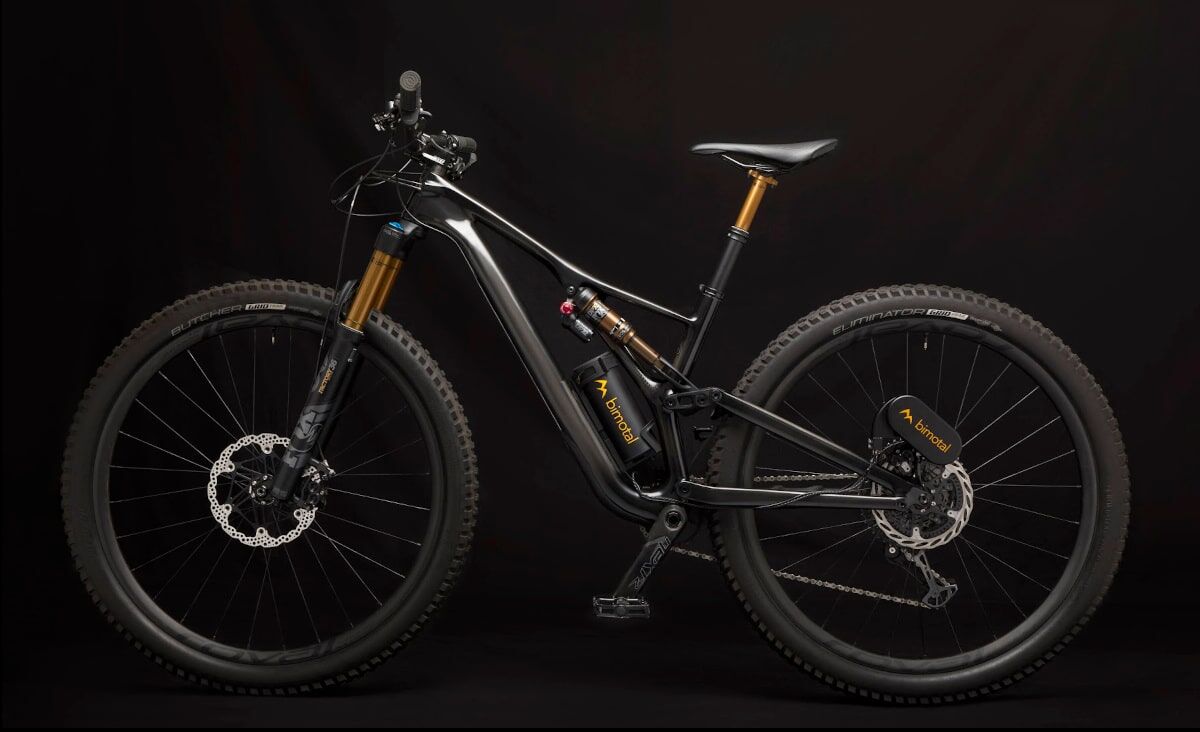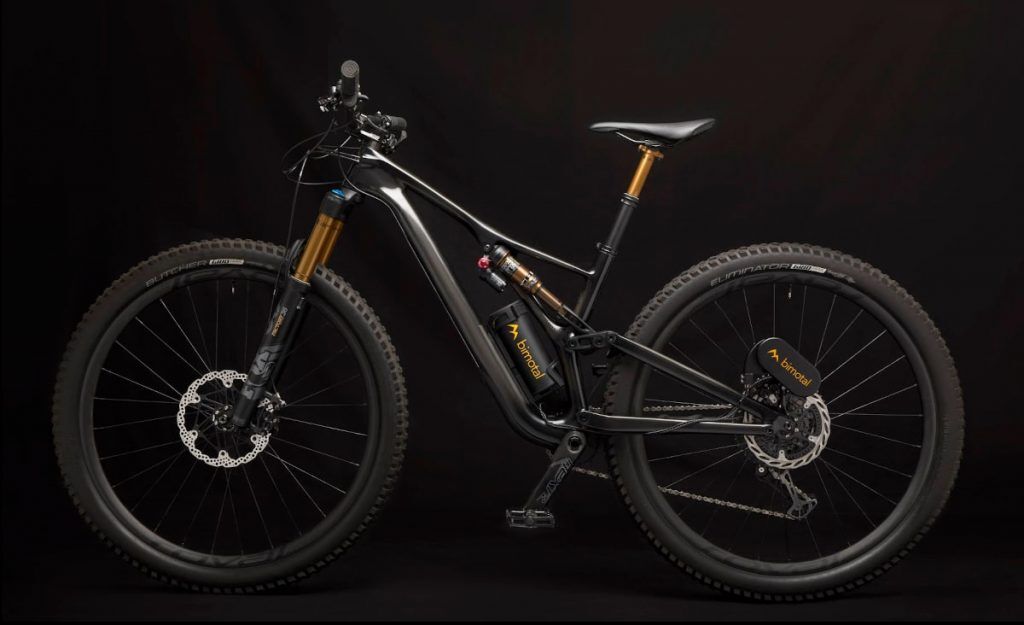 Although the Bimotal system may be expensive when compared to some low cost Chinese commuter ebikes, there can be a massive cost advantage for MTB enthusiasts.
A quick cost analysis highlights huge potential cost savings. A top class mountain bike fitted with an electric conversion kit compared to a purpose built electric mountain bike, can present a massive cost saving.
Taking as an example, the Specialized Stumpjumper Expert which retails at US$6,000. If we convert this with a flexible, 750 Watt Bimotol Elevate ebike conversion kit, the total cost would be $7,950.
Bearing in mind that the similar spec'd Specialized Turbo Levo Expert with a 250 Watt motor is priced at US$12,000 and the value proposition becomes obvious. A saving of over $4,000.
I understand that there are many differences and we cannot directly compare apples with apples here. The comparison does, however, highlight the potential cost saving while gaining substantial additional power when compared to many comparable purpose built ebikes.
There are many riders who will value the additional power offered by the Bimotal while others will value the advantage of being able to strip the ebike back to a light and agile pedal powered mountain bike.
The value of being able to strip the weight from ebikes has the corner stone of some technically astute top brand performance ebike manufacturers.
The performance car giant Porche have seen the advantage of being able to strip back an electric mountain bike to a more agile pedal powered option. Porche recently acquired 100% holding of Fazua, a company renowned for lightweight ebikes.
Fazua have pioneered lightweight 250 Watt ebikes with easily removable motor and battery. Fazua pride themselves on their industry leading electric bikes which have a 4.6Kg (a fraction over 10 lb) removable battery/motor units.
It is worth pointing out that neither motor, nor battery, are as powerful as the Bimotol Elevate conversion kit. Fazua's ebikes are, of course, elite, well polished and balanced ebikes. Purpose built ebikes do have a number of advantages over the Bimotal Elevate conversion kit. Leaders in the ebike industry, however, are following many of the same concepts as the next gen electric bicycle conversion kit manufacturers.
The interest in stripping back ebikes to their pedal powered core shows a huge market for Next Gen electric ebike conversion kits.
Whatever your view about ebike conversion kits, the Bimotoal Elivate and the Skarper are at the forefront of a new era of electric conversion kits. These quickly removable disc drive systems have been in development since 2019 and are now available in limited supply.
The advantages of stripping back an ebike to its lighweight bones will be tempting to many sports riders. The performance advantages to MTB sport enthusiasts is especially appealing.
The new era of electric bicycle conversion is set to boost the market for convenient electric power vehicles.
Ultimate Guide to Powered Bicycles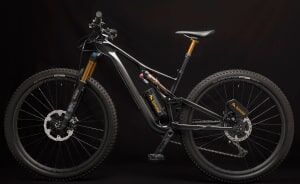 Everything About Power Bicycles
Revolutionary Ebike Conversion Kits. The New Era of Innovation
E-bike conversion kits are at the forefront of a new era. Light, powerful easily removable disc drive systems have been in development since 2019 and are now available to the public.
Steve
Steve Baillie holds a degree in electronics and electrical engineering and has over 20 years working in the motorized bicycle industry
Power Bicycle
Publisher Logo