Jeep Electric Bike - The Real Deal!
In 2020, Jeep entered the world of xtreme fat tire electric bikes with their first off-road electric bike. The worlds most recognized name in off-road vehicles, Jeep, have partnered with QuickKat to give American electric bike industry a shot in the arm. The fact that Jeep has an interest in off-road electric bikes signals many good things for the e-bike industry. The Jeep e-bike sheds light on their view of the future of the electric vehicle market in America.
What makes Jeep electric bikes different?
Fat tire electric bikes are fast becoming the most popular off-road vehicles in America and Jeep is a flagship brand. But why are Jeep electric bikes different? We analyse the advantages of the Jeep e-bike and the advantages of owning one.
 Less depreciation – Jeep is an iconic brand promoting a top of the range fat tire electric bike. Jeeps reputation for rugged off-road vehicles will ensure that Jeep e-bikes will have a stronger resale price than competitor brands.
2.  Safety – The large tires on these bikes provide greater traction in slippery conditions such as wet grass, snow and mud. In addition, the 4 piston hydraulic brakes, front and rear, can pull the e-bike up quickly.
3.  Towing – The amount of weight a camper, or hunter, can carry on an e-bike is very limited. The Jeep e-bike has a powerful 750 Watt motor. There is also a 1000W motor option with a peak output of 1500W. That is very respectable power for an e-bike and the EV can easily tow a trailer.
4.  Speed – The powerful  750W or 1000W+ motors get the rider to trailheads quickly.
5.  Travel range – Ride management software and 14.5AH/48V Panasonic battery provide riders with extensive travel distances for hours of off-roading. The standard battery provides up to 58 miles of range from a single charge for the 750W motor with pedal assisted riding. You can extend the range further with optional battery and solar panel accessories.
6.  Gearing – The Jeep e-bike uses a mid mount motor to improve balance and handling. Locating the motor between the pedals also leaves the rear wheel uncluttered. This allows a 9 speed gear cluster to be fitted to the Jeep electric bike. The large cluster is important for anyone who wants to extend their range of travel, or that typically exhaust their battery, before returning to base.
The 750W Jeep electric bike can comfortably cruise at 28 MPH. Jeep also offers a 1000W unrestricted motor option for $200 extra.  The 1000W motor is de-restricted and can peak at 1500 Watt output. The de-restricted option can achieve speeds of 45 MPH although 35 MPH is a typical cruise speed.  
A significant advantage of the Jeep e-bike is that, unlike Pedelec e-bikes, it can achieve these speeds by simply pushing the thumb throttle. You don't need to pedal, unless you need to extend travel distance or want to exercise. 


With a simple modification, the Jeep electric bike can meet all three classifications for e-bikes. There are however variations in electric bike classifications in each state.  
The 750W Jeep e-bike is shipped as a Class 2 electric bike although it can meet class 1 restrictions (the most restrictive legislation) simply by removing the thumb shift throttle.
Removing the throttle means that the e-bike has to be pedaled to engage the motor. The bikes speed is then limited as the rider has to pedal fast to achieve over 20 MPH.  This restriction is often sufficient to comply with Class 1 legislation although you should always verify with laws in your state to check.
I recently bought a Jeep electric bike and wow! If I had known how much fun it would be, I'd have bought a fat tire e-bike a long time ago. After just a few adventures on my Jeep e-bike, I have grown addicted to the ride. I have rediscovered the great outdoors, and it's the closest ever gotten to being an adventurer.
Jeep bikes are the absolute best fat tire e-bike that you can buy. They spare no expense providing a perfect balance between powerful, mid-mount electric motor, and high-capacity battery. Combined with full suspension and fat tires, the Jeep e-bike can tackle extreme trails and soft terrain.
My Jeep e-bike doesn't take up much room in the garage either. I use the bike most days for short trips to the shops as it is ready to ride any time.  The battery and electric motor take the strain out of any journey and it is easy to park when I get into town. 
I take my Jeep for long trips every weekend, I no longer feel the need to go to the Gym. After all, I now take much more natural and enjoyable exercise, rather than concentrating all my efforts into a few intense fitness class workouts. 
Weighing in at 70 lbs (32Kg), I can lift the e-bike onto the back of my SUV to get me to my trail and the powerful 1,000W motor takes me deep into the wilderness quickly.
If the weather is pleasant, I'll ride all day. To conserve the battery, I can program my Jeep e-bike to let me pedal more. The power management program then provides less help from the electric motor which enables me to spread the battery charge over the day. This way I combine a little exercise with a full day of fun.

Benefits of Hunting on an off-road electric bike
If you have hunted Deer, Elk, Bear or Moose on an electric hunting bike, you will understand how close to nature you get. In summer, most hunters leave before sunrise so that they can hunt for an hour or two before the heat of the day sets in. 
By leaving before sunrise you have the entire day to hunt, but few off-road electric bikes have the range of the Jeep electric bike. With the Jeep e-bike, it is easy to hunt the complete day.  
You can cover more ground and take a break when you need to. You don't have to worry about the battery dying, losing power and getting stranded.
The Jeep e-bike is at the top of the range so it isn't cheap. It is, however, well priced for the specification, and a brand name of this calibre. With a recommended retail price starting from $6,299 for the 750 W off-road electric bike (an additional $200 for the unrestricted 1,000W) , there are many, less capable, fat tire e-bikes that cost more.
With most new vehicles, I would expect to have some room for negotiation after a couple of years. Unfortunately, dIscounts will be highly unlikely on this electric mountain bike for many years. 
The Jeep e-bike is a relative newcomer to the market. Their first, fat tire e-bikes began selling in June 2020 with a recommended retail price of $5,899. The current RRP has already increased by $400 since its release. 
In addition, the Jeep e-bike is in high demand and available by order only.  If you order one of the more sought after colors, expect a delivery time of 6 months or more. Further to this, new technology will continue to advance the two-wheelers capability. I expect that future model improvements, and demand for the brand will keep the retail price strong. 
It is, therefore, unlikely that discounts on retail price will be available for several years.

Why is the Jeep electric fat tire bike so significant?
There are already many quality American brand names selling electric bikes, so why is the Jeep e-bike significant?
There are several reputable names in the American e-bike arena: Pedego, QuietKat, and Rambo amongst the largest.  Until now, all American producers have been relatively small companies with little ability to influence legislation. Major overseas corporates enterprises such as Yamaha, BMW, and Bosch have been shaping US legislation to favor their products. 
The big deal here is that Jeep, being a major US vehicle manufacturer, has a significant voice with which they can lobby Senate.
For the first time, a major US vehicle manufacturer is marketing extreme, fat tire, off-road electric bikes. Jeep e-bikes focus on the American market, and are therefore more appealing to the American public. Their bikes offer throttle control and more engine power than the European centric mountain bikes that have been flooding the US e-bike market.
Large overseas enterprise have successfully pushed many states to adopt European e-bike legislation. There has, therefore, been a significant loss of consumer options as states across the country adopt European style e-bike restrictions.
European centric e-bike manufacturers can sell their e-bikes in the US while local manufacturers have to re-design, re-tool, and adapt, to meet the changing legislation. Models that were manufactured for US customers only a few years ago are no longer permitted in many states.
With Jeep promoting an American centric e-bike, there is hope that consumers will retain some freedom of choice.
If you're hunting big game, then you probably understand how difficult it can be to find your target. In most instances you have to drive off-road for hours to locate it, which can be both time consuming and exhausting. The Jeep electric bike provides a fast and effective way to search for wildlife. 
Jeep electric bicycles are fast, quiet, but still light enough to be loaded into a pickup truck or onto an SUV.
The Jeep electric bike is certainly the cream of the crop if you are looking at off-road e bike capabilities. The fat tires, full suspension, powerful engine, hydraulic brakes, and battery, alow the Jeep e-bike to tackle the most extreme off-road terrain.
The biggest difference that Jeep bring to the e-bike industry is their ability to influence US legislation. Their entry into the market will, hopefully, stop further restrictive legislation eroding the usefulness of electric bikes.
Motorized Bikes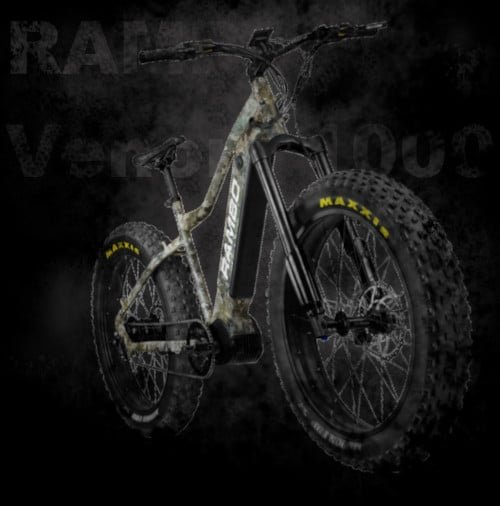 Power Bicycles
Fat Tire Jeep Electric Bike - The Real Deal!
Information about motorized bikes
The Jeep fat tire electric mountain bike is suitable for a variety of terrains. It offers a 1000w motor, which provides plenty of power to take you over hills and through trails on your adventures.
Steve
Steve Baillie holds a degree in electronics and electrical engineering and has over 20 years working in the motorized bicycle industry
Power Bicycle
http://power-bicycle.com/wp-content/uploads/2023/03/skull-logo-300.webp