RockShox Pike - The ultimate guide to Pike and Revelation RC forks
Since its initial debut in 2013, the RockShox Pike has been the SRAM's premier fork.
Over the years, the RockShox Pike has seen many upgrades to keep it ahead of its competitors. The latest changes have seen Pike's 2021 chassis reduce weight by over 160 g while claiming a significant improvement in ride quality.
The RockShox Pike. along with other models in the RockShox fork lineup. have recently benefited from improved air spring, dampers and lighter chassis.
I recently put the new SID and SID SL through their paces. The all new Debonair air spring and Race Day damper provided a leap in performance for RockShox SID forks. I expected the same from the Pike lineup.
Both SID and SID SL were at the top of the game for XC forks. The new 35 mm stanchion SID also put in a respectable performance downhill. RockShox limited the capability of SID forks to reduce weight. SID stands for Superlight Integrated Design. I was excited to see if the new 35 mm stanchion, 160 mm travel, RockShox Pike lineup would take the performance one step further.
RockShox focused on weight reduction with the SID and it lacked the travel of a full-blooded trail bike fork. They designed RockShox Pike forks for the trail bike audience, and I hoped Pike forks would carry on where SID forks left off.
I was eager to find out how well Pike forks would handle the terrain they were designed for. I had high hopes that they would be the perfect all rounders that trail biking requires.
My first impression of the RockShox Pike had me charged. Pike forks aren't just long travel versions of the SID that I was expecting. Although Pike forks share the enhanced DebonAir air spring, there is far more going on inside with damping.
All Pike models, other than the Pike DJ, are Boost compatible. All models accept Torque Caps and we can adjust fork travel from 120 mm to 160 mm.
These buzz words are much promoted and the benefits of often hyped and misunderstood. I thought it would be useful to clarify what these features are and why you may want them.
As you may notice from my outline specs below, the Pike Ultimate and the Pike Select+ are both Boost forks. RockShox introduced the Boost standard in 2015 to provide more space in front and rear axles.
A wider axle provides a greater spoke bracing angle on wheels. Using a Boost axle allows a stiffer, more controllable wheel to be fitted. The Boost standard provides a useful advancement in wheel stiffness.
Modern mountain bikes increasingly make use of 29" wheels and wide tyres to provide a smoother ride. Larger wheels introduce more flex. We can reduce flex by spoking the wheel from a wider hub.
Modern mountain bikes increasingly make use of 29" wheels and wide tyres to provide a smoother ride. Larger wheels introduce more flex. We can reduce flex by spoking the wheel from a wider angle.
Modern mountain bikes increasingly make use of 29" wheels and wide tyres to provide a smoother ride. Larger wheels introduce more flex which can be counterred by spoking the wheel from a wider angle.
Modern mountain bikes increasingly make use of 29" wheels and wide tyres to provide a smoother ride. The larger wheels introduce more flex which can be counterred by spoking the wheel from a wider angle.
Manufacturers claim that 29" wheels using a 110 mm Boost through axle have comparable stiffness to a 26" wheel with 100 mm though axle.
At the rear, boost axles provide more space for larger cassettes to be fitted.
RockShox machine Pike forks (excluding the Pike DJ) to accept Torque Caps. So, what are Torque Caps and what are the benefits?
We fit torque Caps to the end of wheel hubs. Torque Caps simply provide a larger face to connect the wheel hub to the fork lowers. The fork lowers have to be machined with a larger flat surface for them to be Torque Caps compatible.
The benefit is that the larger wheel hub end piece (or Torque Cap) holds the wheel hub more firmly against the fork lowers. Thie idea is to provide rigidity to the wheel to deliver more positive steering.
Any benefit is minor. I cannot tell if a bike is using Torque Caps or not. The caps cost around $30 to upgrade a hub and, as with most advances, a cumulative effect of several components results in a noticeable difference.
There is rarely a significant improvement when you fit one redeveloped component. When you fit several redesigned parts, the combination can have a radical effect on the performance of your bike.
Why use long travel forks?
Long travel forks improve control and shock absorption over bumps. Long travel forks also provide versatility. If you are riding trails that don't require the full range of the forks, you have the flexibility to reduce travel.
Why use short travel forks?
Keeping fork travel short minimizes brake dive while reduced damping increasing power transmission from the pedals.
If you know the type of trail you like to ride, then shorter fork stanchions can reduce the weight of the bike.
As with all other forks in the RockShox lineup, Pike forks are available in many varieties.
There are 4 primary options. The Pike Ultimate, Pike DJ, the Pike Select+ and the Pike Select.
I have also included the Revelation RC, as it exploits the RockShox Pike chassis. The Revelation RC is an entry level RockShox Pike with a unique name.
While the Revelation RC is an entry level Pike, the RockShox Pike DJ is a distant cousin of other forks in the Pike range. It would have been more logical to rename the Pike DJ.
I have singled the Pike DJ out to provide a platform for dirt jump enthusiasts with a specific setup and tune.
All Pike forks have 35mm stanchion diameter with a 1.5″ tapered steerer tube. Note that RockShox Pike forks have a maximum of 160 mm for 27.5" wheels, which reduces to 140 mm travel if you run 29'ers.
If you run large rubber, the Pike can take a plus size 2.8" wide tire .
A 15 x 110 mm, Boost Maxle holds the wheel in place, while Torque Cap compatible forks secure and stiffen the front wheel for stability in difficult terrain.
The forks accept a minimum rotor size of 180mm and a maximum rotor size of 220mm.
Differences in the RockShox Pike lineup
The mainstream Pike models accept both 27.5" and 29" wheels, with the DJ designed solely for 26" wheels.
The Pike DJ has a 40 mm offset. All other Pike models, and the Revelation RC, have a choice of 4 offsets. The 37 mm and 46 mm for 27.5" wheels and 42 mm and 51 mm offsets to suit 29" wheels.
To understand the importance of wheel sizes and offsets, click here.
The Pike DJ continues with a Solo Air™ system, which was introduced in 2012. All other Pike forks (and the Revelation RC) are fitted with the smooth, light and capable DebonAir air spring.
We can increase the air volume in these air springs by simply inserting bottomless tokens into the unit. Using more tokens ramps up spring progression to prevent the forks bottoming out when crashing down after a drop.
The major difference between models in the Pike range is the damper. The more expensive Ultra provides a choice of 3 variants of the Charger 2.1 damper. RockShox provided other Pike forks with Charger, Charger 2.1 RC, or Motion Control damper for the Revelation RC.
I clarify the different model options in the RockShox Pike lineup below:
35 mm tapered wall, Boost stanchions

120 mm – 160 mm travel

Charger 2.1 Damper options (RC, RC2 or RCT3)

DebonAir air spring

Weight approx. 1868g (depending on setup)

US$1,382
We can set suspension travel on Pike forks between 120 and 160 mm (Maximum travel reduces to 140 mm if you run a 29er). The Pike DJ is again the odd one out in this list with travel of 100 to 140 mm.
The Pike ultimate offers the choice of 3 different Charger 2.1 dampers. Of the three damper options, the versatile Charger 2.1 RC2 suited me most. These forks provide enduro control and ride quality with straight forward but advanced tuning options, which is simple to set up.
The RC2 has adjustable slow speed and high-speed rebound circuits, and low speed and high-speed compression adjustment.
The fork outers are available in gloss black or gloss silver. There are also 2 Rockshox decal options for the Pike Ultimate.
Flight Attendant for Pike forks
RockShox Flight Attendant is now available for Pike Ultimate forks. New to Pike forks in the Rockshox 2022 line up, the Next GEN Flight Attendant is now available.
Flight Attendant is an industry leading electronic suspension system. A predictive algorithm adjusts the suspension settings in microseconds to keep your suspension tuned for the track ahead.
Follow this link for more details on RockShocks Filght Attendant.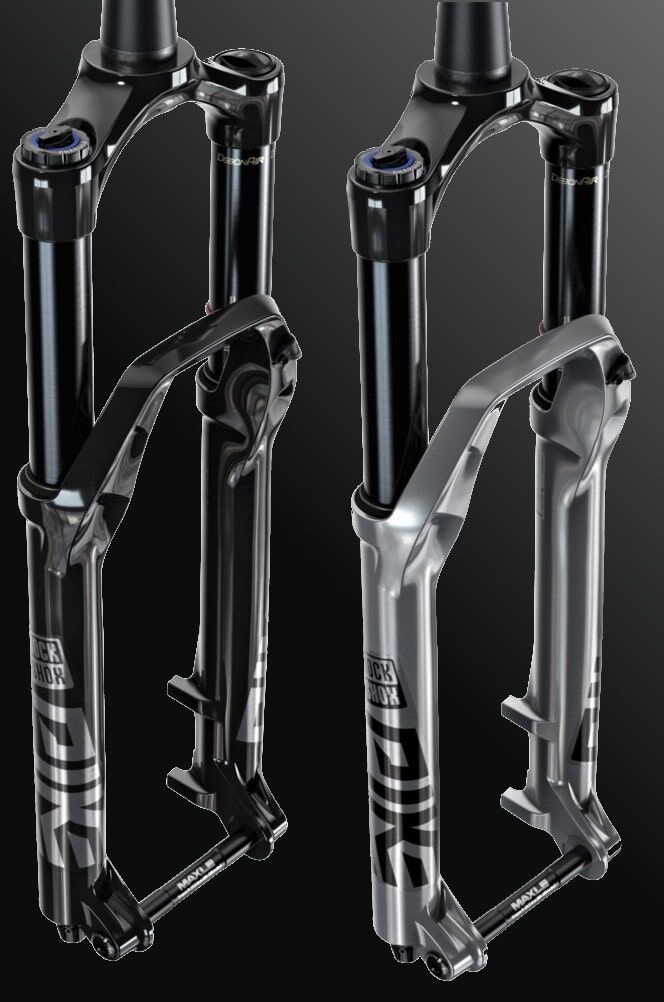 35 mm tapered wall, stanchions (Non Boost)

100 mm – 140 mm travel

Solo Air Spring

Charger Damper with a specific tune

1845g

US$1,305
The Pike DJ is the odd one out in this range. It is not built as a trail bike fork as is intended for 26" wheel, dirt jumping, bikers.
Pike DJ forks are designed to take a pounding on landing big jumps. RockShox tune the air spring and damper to improve rebound in the stroke, helping the rider take more air in their jump.
The Pike DJs are short travel forks fitted with a Solo Air spring (Rockshox introduced the Solo Air spring in 2012). The Solo Air spring in the Pike DJ is robust when compared to the lighter DebonAir system.
The robust Solo Air spring and the early model Charger damper used in the DJ are both specifically tuned for jumping.
Color options are diffusion black, gloss black, and gloss silver.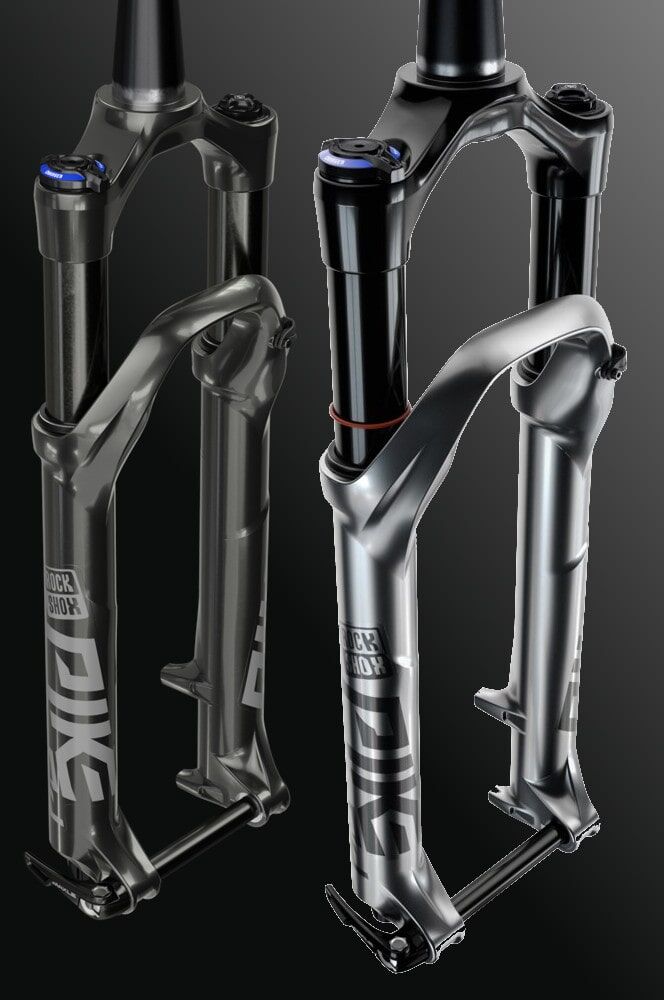 35 mm tapered wall, Boost stanchions

120 mm – 160 mm travel

Charger 2.1 RC damper

DebonAir air spring

1821g
The Select+ is not available for direct sale as a stand-alone unit. The Pike Select+ is, however, provided on many mountain bike packages. It is possible to buy used Select+ forks.
Pike Select+ are available in diffusion black or gloss black.
These trail forks have the same spec as Pike Ultimate forks, although there are no damper options. This fork is supplied with the Charger 2.1 RC only.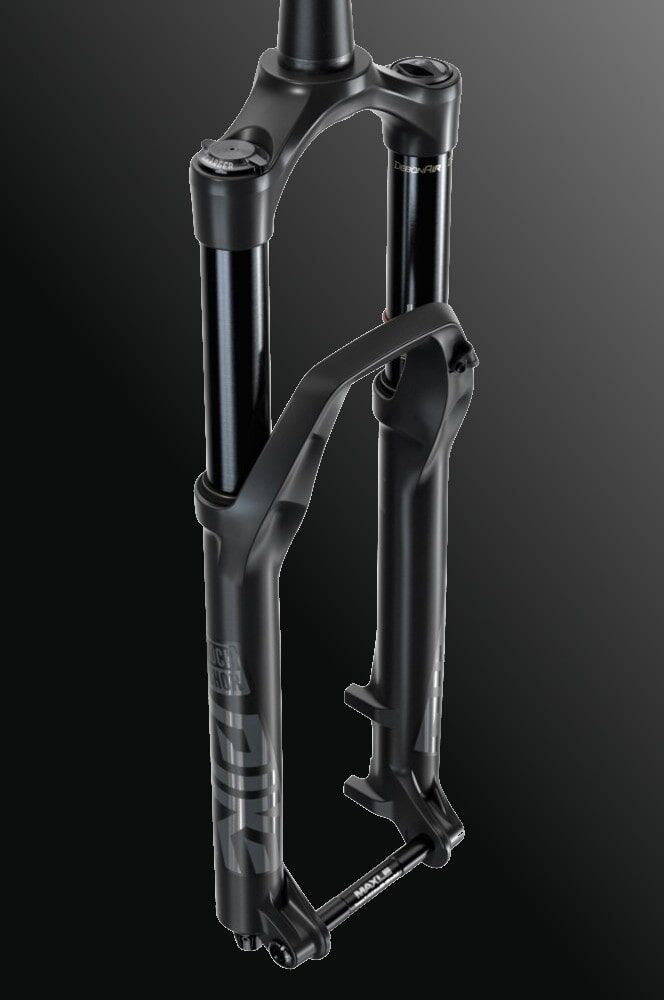 35 mm tapered wall, Boost stanchions

120 mm – 160 mm travel

Charger 2.1 RC damper

DebonAir air spring

1821g

$1074
The Pike Select is great value for those seeking a reliable trail fork on a budget.
There are very few compromises with the Pike Select. RockShox fit these forks with the earlier spec Charger RC damper and use standard oil seals. The forks use plush damping oil and are compatible with Torque Cap.
Available in diffusion black and gloss black.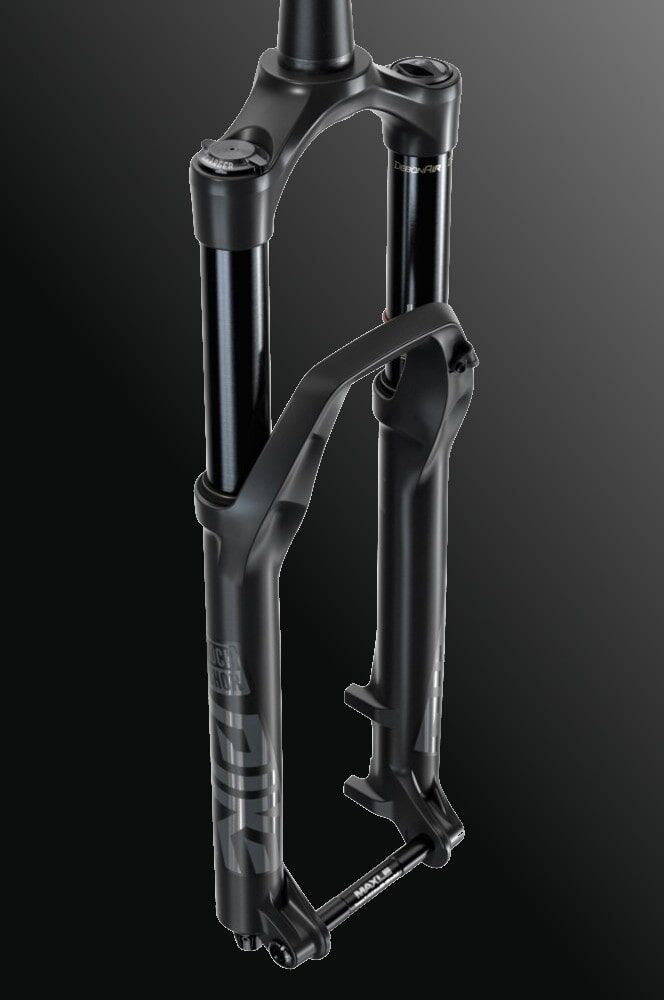 35 mm Boost stanchions

120 mm – 160 mm travel

Motion Control damper

DebonAir air spring

1951g

$767
As the Reveltion RC carries a unique name, it may seem odd to include this fork with my review of Pike forks. The Revelation RC, however, uses the same Pike chassis, stanchions and DebonAir air spring as other models.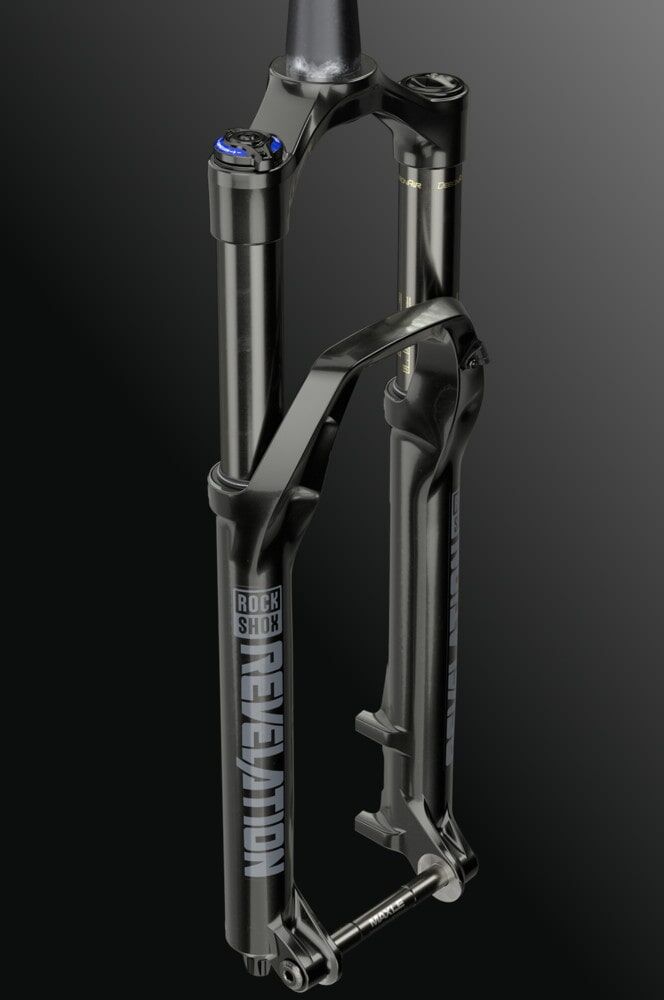 The Revelation RC is then the budget entry option for those seeking a reliable trail fork without breaking the bank.
The major compromise is that RockShox fits these forks with older air/oil, Motion Control damper. This damper provides low-speed compression adjustment.
Revelation forks also use standard oil seals, have a slightly heavier crown, and do not have tapered wall uppers. The forks use Maxima damping oil and are compatible with Torque Cap.
Available in diffusion black and gloss black, these forks can be found on mid-cost enduro e-bikes, such as the Yamaha YDX Moro.
Charger 2 dampers are sealed oil dampers using an expanding bladder to prevent air mixing with oil. Sealed oil bladder dampers provide better sensitivity and consistency.
With the earlier RockShox Motion Control damper, air in the damper could mix with the oil to emulsify the damper fluid under harsh conditions. Emulsified oil changes the dampers performance, leading to inconsistency on long trail rides.
The RockShox Revelation RC could be classed as an entry level Pike fork. Revelation RC forks uses the Pike chassis with a slightly heavier crown and Motion Control Damper.
The Charger 2.1 RC is the most popular damper for Pike forks. This option provides low-speed compression and rebound adjustment.
The RC2 provides adjustable slow speed and high-speed damping circuits for both rebound and compression. This is the most versatile Charger damper. Charger RC2 dampers adjust compression from the crown, while the rebound is adjusted from the bottom of the fork leg.
The latest Charger 2.1 damper has a revised piston and rod with a low friction guide ring. This delivers a smoother action while improving mid stroke support.
The Charger 2.1 damper keeps your wheel glued to the ground, giving better traction and predictability.
The RCT 3 is a Charger 2.1 RC with a 3 position dial on the top of the stanchion. The dial allows a quick switch between lockout, hard compression damping and soft compression damping.
I could quickly change how plush or firm the fork felt using the adjuster on top of the crown. Despite the three-position compression adjustment the fork stayed rather firm and lacked a full lockout. The stiffer damper certainly made the bike feel more efficient.
The lockout position may be handy if you venture into cross-country riding. For my style of riding, I selected the stiffer compression setting and leaving it. I got little use out of the RCT3's setting dial.
Maxima Plush fluid in this fork reduces friction. Lower friction provides a smoother ride while reducing suspension wear and damper noise.
The Motion Control damper on the Revelation RC is showing its age. This damper struggled to stay obedient on extreme downhill trails. I felt the fork roaming while ripping over fast, chattery tracks.
The Motion Control damper wasn't bad. The damper compromised a little in comfort, smoothness, and capability, but when considering the price compared to its newer competition, it is a bargain.
When testing these forks, I rode everything from fast tarmac to steep downhill runs and jumps. I wanted to know how versatile the Pike lineup was.

All forks have a guide marker on the stanchions with settings for the DebonAir air pressure to suit riders of various weight. I checked pressures and set the forks to the recommended damper settings using the free Trailhead tool provided by Rockshox.
If you like big drops.,or like me, you weigh more than 200lb; I recommend adding some volume reducers. I bottomed out a few times on big drops, although not as often as I expected. The forks coped well and, other than the odd silly drop, I never felt them bottom out hard, even without reducers.
The fork adapted to the task, whether I was on a paved road, ascending fire trails, or leaping off large drops.
The RockShox Pike's were silent and rigid while hammering down tricky and hazardous terrain at speed.
Maxima Plush oil in the Ultimate lived up to its billing by keeping the forks creamy smooth. Forks without Plush fluid didn't seem noisy or sticky, but they were not as slick..
Pike forks weigh around 1,837 grams, so they are mid-range weight for a fork with 160 mm travel.
The RockShox Pike Ultimate, Select and Revelation RC were incredible in all test situations and gave no mechanical problems. I raced this fork on paved tracks, dirt jumps, and blasted through some rough downhill trails. All the Pike range held up well and were never over extended.
Pike forks perform admirably, and adding a few tokens will enable them to handle just about anything you throw at them.
For my money, I'd choose either of the two extremes. The Revelation RC presents incredible value at $767. It was however noticeably heavier than other Pike models. The revelation RC also transmitted more vibration when hammering over minor bumps.
I didn't detect any degradation in damping of the Revelation RC, even over long downhill tracks.
If you want the best performance, then you have to stretch the budget and go for the Pike Ultimate at $1,382.
Choosing the Charger 2.1 RC2 damper on the RockShox Pike Ultimate provides more confidence, and reduces fatigue, while allowing you to rip through bumpy sections. The additional adjustment options were advantageous if you love to play with settings to find the sweet spot for the track you are riding.
Pike forks are dependable all rounder that performs well across all disciplines. The Pike Ultimate takes the title as the best performer where the Revelation RC can't be beaten for value.
Over all, both SID and SID SL continue to step up in performance from previous generations. The new SID forks lineup is more alluring, lighter, and better performing than preceding generations.


Pushing the SID Ultimate on screamin' rocky tracks exceeds the performance design of the fork. The SID Ultimate coped with the challenge, but not as well as a longer travel fork. The Superlight SID began to bounce and lose precision over extreme terrain.
I guess riders can't have everything in one package. On rapid rough stuff, I longed for the precision that the Rockshox Pike would have provided.
Admittedly, I was testing the limit of the SID beyond its intended use. Even though it was not designed for rough downhill, the SID performed better than I expected. The fork never bottomed, and I did not use any of the bottomless tokens included with the forks.
SIDs are accomplished forks, which emphasize lightness as their primary goal. The SID and SID SL pack an incredible amount of functionality into these ultra light units. Both models are dynamite cross-country forks, with the SID certainly able to hold its own against some of its trail centric competitors.


For riders that don't downhill much, the Rockshox SID SL is fantastic. It smashes hypersonic courses and light downhill tracks.



For cross-country enthusiasts who like to push into rougher country, the Rockshox SID provides a perfect balance.
Ultimate Guide to Powered Bicycles
Everything About Power Bicycles
RockShox PIKE fork lineup. Everything you need to know about RockShox Pike and Revelation RC forks
I detail the RockShox PIKE and Revelation RC forks detailing available options. This is the in-depth guide to PIKE model variants and Flight Attendant. I explore what you get for your hard-earned and test how the different options perform.
Steve
Steve Baillie holds a degree in electronics and electrical engineering and has over 20 years working in the motorized bicycle industry
Power Bicycle
Publisher Logo