The US company SRAM are a leading manufacturer of bicycle components. Their brand-name Californian factory Rockshox is the world's largest manufacturer of shock absorbers for bicycles and e-bikes. 
With a massive 60% market share, they dominate the industry. As they are the suspension of choice for many brand-name mountain bikes their products must be on the money.
Rockshox have a huge lineup of much respected forks that can be confusing. I delve into the Rockshox product range to shed some light on the confusing world of front suspension units.
I cover the major milestones in the Rockshox range. From entry level XC, short travel forks, I progress through the range to their top of the line, full downhill forks. 
Categorizing these forks is not easy as there are 18 different Rockshox fork models. Most of these models have 3 variants, and the variants provide additional optional features.
To begin to understand the range, I outline the important factors in choosing forks. I then categorize the most popular suspension models by function. I break down the model variants and try to provide some price guidance.
It is difficult to pin any model to a specific price, however, I progress through from the lower price products to the more expensive models. In general, each model goes up in price as you progress down the list.
To help understanding of the technology, I thought it would be useful to cover some basic concepts of mountain bike forks.
First, it is useful to know that most adult mountain bike forks have a 100mm spacing. More downhill focused mountain bikes tend to use 110 mm spacing. Wider spacing provides more room to accommodate a wider tire.
The thicker the stanchion diameter the less flex the forks present. This equates to greater stability and better shock absorption. The selection of stanchion diameter comes down to affordability and weight. 
The biggest drawback of wider stanchions is the increased price, but greater width also means more weight. The front end of your bike is the most sensitive place to increase weight. 
A 200 gram increase in weight can make a huge difference. Front end weight makes it more difficult to bunny hop, or jump the bike over obstacles. Weighty forks can dull the bikes responsive feel.
The amount of travel provides the biggest change in bikes character. Long travel forks are great for absorbing punishment from large rocks and obstacles on rough trails but there is a trade off. 
Longer travel forks require more material and, therefore, are heavier. Extended travel als introduces more flex wich reduces stability. 
Increased travel absorbs more energy. This is great for soaking up impact but it also absorbs pedal energy. The long travel at the rear shock has a more noticeable impact, however, long travel front suspension does absorb rider input.
You should be aware that longer forks will change the bikes frame geometry. As you increase the length of the forks, it raises the bikes center of gravity and "slackens" the steering geometry. 
As a rule of thumb, increasing the length of the forks by 20 mm will slacken (or increase) the head angle by around 1 degree. Slacker head angles provide more stability but make the steering feel a little woolly and less direct.
Remember also that if you run a 29" wheel rather than a 271/2", you may be restricted in your choice of range. For example, forks advertising 180 mm fork in may only be available as a 160 mm for a 29" wheel.
The advantage of inverted forks is that the heavier outer casing is attached to the steering head. The lighter, inner tubing of the forks connects to the front wheel.
The advantage is that smaller, lighter, components reduce the unsprung mass. Less mass of front wheel and forks allows the suspension to react more quickly. Suspension is then better able to keep the tire connected to the track surface to provide more grip.
Damping is an extremely important component of the forks. Damping controls how quickly forks compress when hitting an obstacle. Rebound is the alter ego of damping and controls how quickly forks return after they have absorbed impact.
Damping and rebound are controlled by technology within the forks. Damping technology is difficult to quantify and opens up a complex area. For this article, it is sufficient to know that it is an important part of shock absorption. As damping is complex, I will leave this subject to another article.
RockShox assist their customers with a fantastic suspension setup tool called TrailHead.
If you enter your serial number [found behind the crown below the steerer tube] RockShox TrailHead tool will provide a list of compatable upgrades for you to consider. 
The TrailHead tool also presents servicing documentation, partscatalogue and user manuals. 
The tool finds your fork model number and provides servicing and setup information specific to your forks. In addition, the tool requests rider weight in order to calculate fork pressures and rebound settings customized for your model.
It is important to understand that forks are designed for different tasks. Lighter, short travel forks minimize weight providing advantages uphill and cross-country (XC). 

Longer travel, heavier forks absorb impact and help stability. They are the preferred choice for extreme, fast or rough, downhill riding.

There is always a trade off between weight, stability, impact absorption, and maneuverability. Different designs work better in different situations.

There are 4 very distinct categories of mountain bikes:
Cross country mountain bikes are most similar to road bikes. They are designedt for riders who like to pedal. These are light bikes to ease the burden of uphill and endurance pedalling.
These are designed as all rounders. Capable climbers with enjoyable downhill capability
Enduro bikes are robust, race format bikes. Downhill sections of enduro trails form the important, timed, section. The rider still has to climb uphill sections of track. Bikes are fast and designed to get air, and tackle difficult technical sections.
These bikes are built heavy to take punishment. They are designed to absorb knocks from big rocks, jump, and controllable on fast, difficult downhill trails. These bikes are relatively heavy with longer suspension. They are not focused on the climb back to the top of the trail.
As a rule of thumb, most cross-country riders prefer lighter forks with around 120 mm of travel. Extreme mountain bikers prefer thicker stanchions that provide  160 mm, or so, of travel.
Entry level of the Rockshox lineup starts with the XC 30. As the name suggests, these forks have 30mm stanchions that allow 80 to 120 mm of travel. These are capable budget units, but they will bottom out when put to task. They are not designed to be abused over rocks, rough tracks, or major drops.
These travel on these forks are noticeably stickier than more expensive units in the Rockshox lineup. Greasing the stanchions helps but there is no substitute for quality.
XC30 forks uses a simple coil spring which makes servicing a simple DIY task, and they are light at 2.19Kg. 
There are three variants to the base line unit: the basic XC 30, XC 30 Silver and XC 30 Gold.
Next in the Rockshox lineup, the Recon provides a lot of versatility. With 32 mm stanchions, these forks offer between 80 and 150 mm of travel and adequate adjustability. 32 mm stanchions are sturdy even for the longest, 150 mm travel option available.
Recon forks offer a budget friendly alternative to the more expensive Rockshox Reba options with a similar ride quality.  Lacking some adjustability, top models Recon forks weigh an insignificant 18g more than Reba alternatives. Recon forks offer fantastic value for the budget sensative.
Recon Silver RL $384 – $563
Bluto forks feature a wide spaced stanchion design with 80 to 120 mm travel. These forks are the odd one out in the Rockshox lineup. These forks can accommodate up to 4.8" tires and are intended for use on fat tire bikes .
Bluto RL = $1058
Reba RL are a reasonable budget fork that offers 80 to 140 mm travel. These forks are the start of a more sophisticated Rockshox fork lineup.
Units use 32 mm stanchions for improved stiffness and are infinitely adjustable. These forks feature an adjustable negative air spring. The negative air spring enables the rider to adjust the initial impact sensitivity separate to the main suspension travel. Adjustment allows the rider to control the fork's initial response to obstacles.
Riba RL = $767 – $874
I separate Rockshox SID and Rockshox SID SL as they are two very different fork options. The SID SL has 32 mm stanchion, where the SID has 36 mm stanchions. Although SID models share componentry, lighter forks on the SL are more cross-country race focused.
Rockshox SID SL shave every gram in this slim stanchion option. These forks are built for cross-country race performance where weight is all important. Casing are designed to shed every gram possible, and super light damper options are available.
Focus is on speed, both up and down hill. RockShox SID SL forks provide precise control and are the perfect choice for racing on fast tracks. SID SL forks are most often found on lightweight cross-country race bikes.
SID SL forks have 100 to 120 mm of travel and feature an optional lightweight racing damper. 
As with most Rockshox forks, the SID SL model has 3 variants. Select, Select +, and Ultimate.
SID SL Select = $921 – $1028
These forks are light, top spec. forks for cross-country enthusiasts. Heavier stanchions on the SID provide more capability on downhill tracks handling rocks and jumps better than their lighter "SL" brothers. 
Rockshox SID forks are most often found on top class, brand-name cross-country mountain bikes. New for 2022, Trek's top flight Supercaliber 9.9 XX1 ASX features Rockshox SID forks as does the Trek Top Fuel models.
SID forks have 100 to 120 mm of travel and optional lightweight racing damper. 
As with most Rockshox forks, SID models have 3 variants. Similar to SID SL's, they are named Select, Select +, and Ultimate.
SID forks provides 35 mm stanchions
SID SL Ultimate = $1228 – $1335
SID Select = $1074 – $1181
SID Ultimate – $1382 – $1496
These present great value, trail specific forks for entry level trail riders. Rockshox 35's forks provide 100 to 160 mm of travel. Rockshox 35's are used on the Cannondale Moterra Neo 3. This is Cannondale's lightweight, entry level, Carbon framed electric mountain bike.
Rockshox 35 all use 35 mm stanchions, and this model comes in three varieties: 35 Silver TK, 35 Silver R, and 35 Gold.RL
35 Gold RL = $690
Revelation forks provide a great value mid range option. They are solid, immensely adjustable, and provides 120 to 160 mm of travel. These forks are used on the Yamaha YDX Moro eMTB. Yamaha's entry level e-bike.
The revelation RC uses the same chassis, stanchions, and air spring as RockShox PIKE forks. I have inclided a review of the RockShox Revelation RC in my review of PIKE forks.
Revelation RC = $767
Rockshox Pike forks are global bestsellers. Considered to be the Swiss army knife of mountain bike forks, they afford the user a huge choice of settings. Rockshox Pike forks are THE gold standard for mountain bike trail riders. 
Rockshox fashioned Pike forks to reduce rider fatigue. The Pike range are ultra-smooth and capable on challenging downhill trails.
Pike forks are often found fitted on manufacturers trail dominating dream bikes.
Rockshox Pike comes in three models offering 120- to 160 mm of travel. The 3 Pike models (the Select, the DJ and the ultimate) all have 35 mm stanchions.
This is THE "Go To"  trail fork for trail bike riders.
Pike Select = $1074
Pike DJ = $1305
Pike Ultimate = $1382
With a mass of travel options from 100 to 180 mm these stiff, low cost forks are Rockshox budget long travel enduro option. The range of options means there is an option to suit every mountain bike. 
Rockshox YARI are perfect forks for riders that want to go hard on a budget. 
Don't think here that budgete price equates to low function. Rockshox YARI are used by racing professionals. 
YARI forks use 35 mm stanchions with a stiffer brace on the lowers to increase rigidity. The stiffer construction adds ride stability on rough track. There are fewer damping and rebound settings which reduces confusion 
The stiffer construction impacts ride quality a little. Rockshox YARI forks would be considered harsh for trail riders.
These forks are used on the Yamaha YDX Moro Pro. Yamaha's top of the range eMTB.
Yari RC = $767
These strong and capable forks are the first option for many enduro riders. Lyrik forks go head to head with Fox 36's as the best, top end, enduro fork in the world. 
Rockshox Lyrik forks are the manufacturer's choice for flagship enduro mountain bikes. 
Rockshox Lyrik Ultimate are the highest spec in this Rockshox lineup. The Lyrik Ultimate features the RC Charger 2.1 damper combined with DebonAir springs. These forks pay attention to smooth operation with advanced SKF wiper seals and suspension fluid used.
These forks are capable downhill performers able to keep the rider glued to the line they choose. Attention to weight reduction shows that Lyrik also considers the ride back up the track. RockShox Lyrik forks can be found on the Cannondale Neo 2 electric mountain bike.
3 models are available (the Select, Select Plus and Ultimate). The range offers 140 to 180 mm travel.
Lyrik Select = $1151
Lyrik Ultimate = $1459
ZEB forks are the stiffest enduro forks in the Rockshox range. With 38 mm stanchions, and 150 to 190 mm travel, they are cross-over capable as a downhill performer.
This is a heavy choice for most enduro riders. Rockshox ZEB forks would be the choice for rougher trails or riders that want more stability than thinner stanchions provide. 
Rockshox ZEB forks give advanced downhill stability while sacrificing some weight of full downhill forks. These forks are made to take on the planet's toughest enduro tracks. They are elite racing forks developed for enduro racing enthusiasts.
Rockshox ZEB forks are found on lightweight, sophisticated enduro e-MTB's. Cannondale's Moterra Neo Carbon 1, the Trek Slash, factory racing enduro and their Carbon eMTB the Trek Rail, all feature ZEB forks.
ZEB = $1074 – $1228
ZEB Select = 1228
ZEB Ultimate = $1535
With 180 to 200 mm travel, Rockshox BoXXer forks are designed for fast, rough downhill tracks. These forks are renowned for their smooth, downhill capability and adjustment options. 
These Rockshox forks win more downhill races than the Kardashians promote active-wear products. This is the beast that can take all the punishment that the scariest, fastest, rockiest, steepest trails can dish out. These forks are masters of downhill and can be found on Cannondale Carbon Neo SE. The NEO is an infinitely capable downhill e-mountain bike.
BoXXer Select = $2012
BoXXer Ultimate = $2611
Rockshox are the world's largest manufacturer of bicycle shocks. They manufacture an extensive and complex range of products to suit every need.
There are so many models, options and upgrades that summarize the Rockshox fork lineup for clarity. I realize that there are some major omissions to the range. I even had to skip a few Rockshox 'Select' forks to simplify the article. 
Finding the correct fork for your preferred riding style can be daunting. To choose the best forks, you must first know what style of riding you prefer. There are 4 categories of mountain biking: Cross-country, Trail, Enduro, and Downhill.
Not sure what you are looking for but ready to splash some cash on forks? The following suggestions would be a great place to start:
Cross Country
Light enough to make life on Alpine trails but sturdy enough to work well on downhill tracks. 
SID forks provide 120 mm of travel which perform well on smooth, fast trails. These are light, stiff forks that absorb a lot of punishment.
Trail
For trail riding, Pike forks are the most popular option. As these forks are incredibly popular, Rockshox make sure that they stay at the top of their game. This fork comes with a huge selection of travel options to make it versatile. The Lyrik line up are regularly updated with the latest technology to keep them ahead of the pack.
In 2021, Rockshox improved the air spring. A higher ride profile and better initial support is provided by the improved DebonAir spring and updated Charger 2 damper. Rockshox make sure that this highly flexible option has the latest tech. 
Enduro
In the Enduro class, the most popular forks is the Rockshox Lyric. These smooth action, long travel forks can be adjusted to suit a massive range of riding trails. 
Weighing in at a fraction over 2Kg, these are great Enduro forks. Easily set up and extensively tunable. Great forks for the downhill enthusiast.
Downhill
There is only one choice if you love extreme downhill fun. The Rockshox BoXXer. These are massive forks that will allow you to get the most from any trail.
This Rockshox fork lineup provides excellent all-rounder capability with excellent adjustability in each mountain bike class.  These may be the best forks for you but you never know until you experiment. These forks are an excellent starting point for any rider. From here, enthusiasts can fit upgraded components, or test alternative products, to find their preferred mix of features.
Ultimate Guide to Powered Bicycles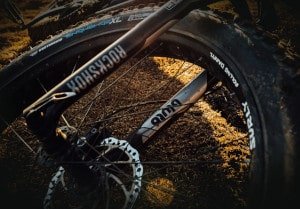 Everything About Power Bicycles
RockShox fork lineup. Everything you need to know
RockShox manufactures 18 different models of mountain bike forks. The variety is functional although complicated to understand. I provide an overview of the most important in the Rockshox fork lineup. This is the best place to understand what Rockshox offers.
Steve
Steve Baillie holds a degree in electronics and electrical engineering and has over 20 years working in the motorized bicycle industry
Power Bicycle
Publisher Logo