Best Bike for a Motor Kit
Choosing the best Bicycle Motor
Are you looking for a fun and easy way to get from point A to point B?
Have you ever wanted to ride your bike more, but were discouraged by the hills or distance? Well, look no further, because we have the solution for you. You can install a motor on your bike in as little as 30 minutes!
With a motorized bicycle, you can ride faster, and go further than you've ever gone before.
Bicycle motors are reliable, and will last for years. You'll never have to worry about being stuck again!

To install a gas bicycle motor quickly and safely, your choice of bicycle is key. 
Read on if you want to know which bicycles make motor installation easy.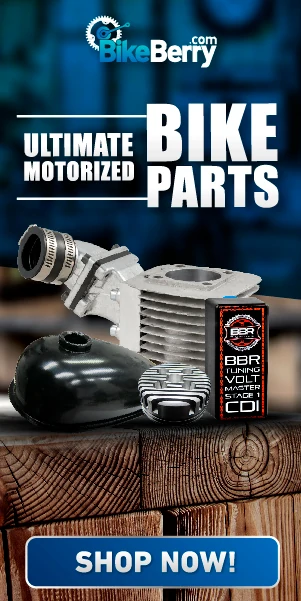 Some motorized bicycle projects are never started because fitting the bicycle engine kit seems too difficult.
Installing a bicycle motor kit should be easy, but it can be very laborious if you choose the wrong bicycle.
Luckily, we're here to help.  This page shows the best bike for motor kit fitting, as well at the bikes you should avoid. 
Cruisers are amongst the most straight forward bicycles to fit a motor onto.
Choosing Your Bicycle - Cruisers
The first point to mention is that this article is to help you fir a gas bicycle motor.  If you are fitting an electric motor kit, the bicycle requirements are different.
The easiest gas bicycle engine  installations are performed on a man's bike with a 'V' frame and "26 inch" or "700C" wheels, with a round frame tube diameter from 25 mm to 30 mm.
Cruisers are popular, with most models being suitable. Note, however, that on cruiser bicycles, additional spacers are usually necessary to support the rear engine mount assembly.   In addition, some machining of the front mount and the rear drive sprocket may be required.
The Everest bicycle is a popular choice for fitting a bicycle motor.
Bikes like the "Everest" (shown here) require a fair amount of modification to the motor mounts to achieve a sound, safe and reliable installation.
A large diameter front 'Down Tube', 28" wheels with 38 or more spokes and a small or odd shaped 'V' section of the frame can make installation of the motor a real challenge.
Despite the challenges, the Everest is one of the most popular bicycles to convert to a motorized bicycle due to its rugged looks, sturdy build and low price. 
Full suspension bike with 80cc bicycle motor
Full suspension bikes are challenging for bicycle motor fitting.
Bicycle motor can be mounted to any other bike, but there are fewer complexities if you stick with the bikes described above. 
As  rear shock absorber frames are popular, we have a lot of enthusiasts keen on this style of bicycle conversion.  Y frame bicycle conversions are possible but complex.  The image here shows a Y frame bicycle with a motor fitted.

Fitting motors to a large frame bicycle
A front mount adapter is included in most bicycle engine kits to assist in fitting the motor to an oval shaped, or larger diameter tube.
Other fittings and processes are available to help you get the motor correctly installed onto a large variety of bike frames. 
If you have a thick frame bicycle, never use "bolt through the frame adapters". We recommend U bolt adapters or clamps specifically machined to suit bicycles with thick frames.
As a rule of thumb, 7.5" of space is required when measured from crossbar to pedal crank.
The only way to really know whether the motor will sit in the frame properly is to place the motor in position to check.
There is however, a "rule of thumb" that can help if you want to install a motor in a tight space.
If you have 7 1/2" (19 cm), measured between the pedal crank and the bottom of the cross-bar, the motor will fit in most cases.
If the bicycle frame is a tight fit, the most common issue is that the crossbar of the bicycle frame will prevent carburetor installation.  Offset inlet manifolds position the carburetor to the side of the frame to help fitting.
Note: For engine mounting, there is no difference in size between 50 cc. 80 cc, or 100 cc bicycle engine kits.
Place some rubber cushioning, or a cloth, on the frame to prevent marking it, and check the following: 
The carburetor must clear the frame and have an angle of no greater than 10˚ to the horizontal.
The rear mount must fit the seat stay and be at right angles to it.
The front mount will probably need to be modified in some way to match up with the front Down Tube. (We have more about this later under the heading "Installing the Motor").
When the muffler is fitted, it must clear the front down tube and the left-hand pedal.
The chain must run between the rear sprocket and the bicycle motor without fouling the frame.
If you are fitting a gas bicycle motor, your choice of bicycle can make a huge difference to the installation.
Some bikes are easy to install bicycle motors on while others require advanced DIY abilities, special tools and, in some cases, you may need to fabricate and weld brackets.
If you install a motor on one of our recommended bicycles, it is feasible to install the motor in under an hour. We would however, recommend that first time installers spend three or four hours in installation.
A slower installation will provide more time to better position the motor, sprocket, and chain tensioner.  A more relaxed pace of installation gives time to re-run cables, tighten bolts and check connectors.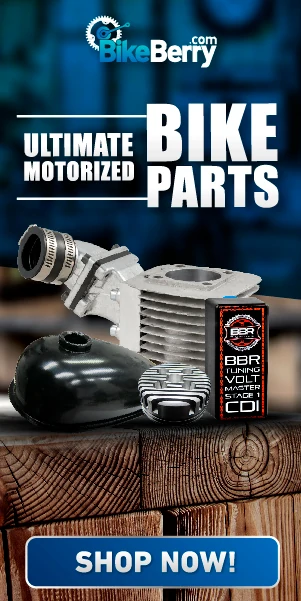 Motorized Bikes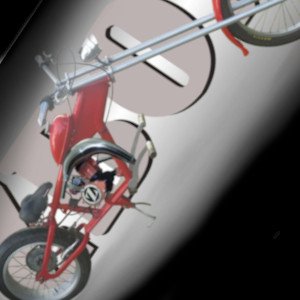 Power Bicycles
Best bike for a motor kit
Information about motorized bikes
Bicycle motor kits are easy to install, and they work on a variety of bicycles. You can use your existing bike or purchase a new one We're here to help you make your dream of owning a motorized bicycle come true. We're committed to helping you find the right kit for your needs and budget. Whether you want a simple commuter bike or something more powerful for off-roading, we've got you covered. Read on, so that we can help you build the perfect motorized bike.
Steve
Power Bicycle
http://power-bicycle.com/wp-content/uploads/2023/03/skull-logo-300.webp