Convenient, self charging solar power bicycles are now a reality. No longer are ebike's limited by the distance the battery will take them.
Advances in solar technology has freed e bike riders from the chains of limited battery life and solar-powered ebike's now have extended range.
Time and again, we have seen entrepreneurs strive for e bikes that can run "off grid". For decades, environmentalists have sought convenient solutions to extend the relatively short range of e bike battery packs. Improvements in solar cell technology, combined with ingenious placement of solar cells, is now turning this dream into reality.
In this article, we explore options for placing solar cells or solar panels on electric bikes to help charge batteries.
A convenient solar charging option is to fit to a multitude of individual solar cells to the ebike.  There is, however, a limited amount of space to fit any form of solar cell. In addition, individual solar cells reduce the effective charge that is supplied to the battery.  Also, managing and connecting a multitude of individual solar cells can be complicated.
Solar panels offer a better option for charging electric bike batteries but they need to be large to provide useful charging.  Large panels are difficult to fit to the ebike itself and become more cumbersome as they increase in size.
The question then is, how large a panel would be required for charging a 36 Volt, 10 Ampere Hour battery in a day or less? Solar cells are becoming more efficient requiring smaller and fewer cells to generate the same charge. There are also flexible solar cells (plastic) which could be formed around curved surfaces and stuck to the sides of battery packs.
We investigate the charging times of solar-powered e bike's and practical options available to decrease charging times. We also look at technology on the horizon that will help to bring solar-powered e bikes to everyone.
As society progresses, the worlds consumption of energy is increasing daily. Global population and road traffic is growing exponentially. Our increasing consumption of power is expanding our current demand for fossil fuels. The excessive use of fuel in our vehicles is a major contributor to the pollution of our environment.
Recent studies have found that transport is the worlds third largest source of greenhouse gas emissions. Cars are responsible for roughly half of the worlds greenhouse gas emissions from vehicles. In addition, the rapid increase of vehicles means that they are also the fastest growing area of greenhouse gas emission.
By contrast, climate concerns are forcing governments to push for reductions in greenhouse gas emissions. Reducing greenhouse gas emission requires that we move away from burning gas and mineral reserves.

Governments understand that the key to driving down transport emissions require viable, "clean" alternatives to driving. This means expanding access to public transport and cycling. Electrifying cars, buses, trains and trams with renewable energy alternatives.
It is expected that countries with Democrat values will increase mandatory legislation to further restrict greenhouse gas emissions standards for cars and other vehicles.
The world wants transport alternatives. Clean vehicles, and the move away from gas and diesel, are  essential to the future of our environment.
Electric vehicles are a logical short term option to reduce our reliance on fossil fuels. The use of electric vehicles will reduce the demand for fuel and is a clear way forward in a move to a sustainable future. Electricity generation still, however, relies heavily on coal and oil to power turbines.  The push towards EV's is, however, pointless without changes to our methods of generating electricity.  
Great Britain is leading the world in it's push to abandon gas and diesel vehicles by 2030. The UK has already invested heavily in wind turbines and a large proportion of electricity production is from renewable sources. Europe will not want to be left behind in the global push for "green" and are sure to announce a similar move away from fossil fueled vehicles in the next year or two. China is leading the world in the production of EV's and Asia is investing heavily in renewable energy projects. Joe Biden has made his position on renewable energy clear. Biden's term in office is expected to follow the green policies of other advanced countries with a push for increased renewable energy projects.
There is no doubt that electric vehicles are going to be great in demand in the very near future. The world is already using many electric vehicles. Electric bikes, electric cars, electric trains and electric buses.
Here we look at the advances in EV's and explore the current practicality of Solar Powered eBike's.
Solar powered electric bikes
The world is rapidly heading to a future where electric vehicles will be the norm of the automobile industry. For the present, we are producing electricity by burning fossil fuels. Fossil fuels are polluting our environment and are becoming increasingly expensive to discover and extract. Reliance on fossil fuels will diminish into the future. We need to produce energy from solar power on a grand scale and it's already happening. Currently, the solar panels in use are relatively big and cumbersome. We require smaller, more powerful, solar panels to be useful on vehicles like eBike and eCars. Advanced solar cell experiments are obtaining positive results. Electric bikes use a battery as a source of energy. We need a solar panel that can be fitted on the bike which can produce the energy that is required to keep the battery charged to a usable level. Let's explore some options that can be used in electric bikes in near future.
Nanocrystal solar cells are an emerging technology for the production of highly flexible, low cost photovoltaic cells. These solar cells are expected to be up to 65% compared with crystalline-silicon based solar cells which are around 20% efficient.
Smart and sustainable mobility
Solar Application Lab (SAL) Is a Dutch company that producing solar panels on a large scale while also conducting new research to increase the efficiency of solar power. In 2016, Solar App Lab presented a solar e bike design with many small solar panels attached to the wheels. The nano solar cells are used to continuously charge the e bike battery. During daylight, the solar cells provide an average of 35 to 40Wh for a 396Wh battery. Using this technology, an ebike's daily range can be doubled to 45 to 50 KM without any plugged charging.
Smart and sustainable mobility
According to Solar App Lab, it is a healthy, smart, and sustainable new form of mobility. Electric vehicles are the future of automobile industry but all EV's are limited travel distance before requiring lengthy recharge. Continuously charging a vehicle's battery from solar cells fitted to it can remove major hurdle to the adoption of EV's.
Canadian company Daymak Drive Systems are taking orders for solar powered ebike conversion kits.  
The Daymak system provides a self charging electric hub motor in a 26″ or 28″ wheelrim.  The wheel contains everything – battery, solar panels and motor are all integrated into wheel.   A wireless throttle throttle control means that the whole installation is free of any external wires.
As all components are integrated into the wheel, installation is simple.   You can convert your bicycle into an ebike in 5 minutes.
Solar bicycles with unlimited range
It may not be the most convenient option, but towing solar panels or solar cells on a trailer behind the e bike can provide sufficient energy to ride continuously without plugged charging.
Small, flexible solar cells
Presently, solar panels require a lot of space to be able to continuously power an e bike. More modern, high quality solar panels are a more convenient but more expensive way to charge the bike's battery.
Solar panels are becoming more efficient and smaller in size as the technology advances. In addition, flexible solar panels have become available that can be used to mold around the frame of the bike to increase the light capture area of the solar cells. These panels can be very useful but they are also very costly.
People are embracing ebikes as a convenient commuting option. Ebike sales reports show that Italy sold 173,000 electric bikes in 2018, France sold 134,000 in 2016, and Norway 35,965 in 2016. Most countries are adopting electric bikes and vehicles in a move to help the environment.
It's expected that the market value of eBike industry will grow up to $20 billion by 2023 & will sell around 130 million eBikes between 2020-2023.
Solar ebikes are convenient and environmentally friendly
The clear, short term solution to combat pollution is to reduce our use of fuel & other minerals that produces smoke and harmful gases. The world is moving towards electric vehicles.
Electric vehicles can cost less to run on daily basis as electricity is cheaper than gas or diesel.
There is a strong uptake in e bikes as an alternative form of transport. E-bikes are a very convenient and environmentally friendly way to cover small distances. As solar powered e-bikes become more efficient, they will be increasingly accepted as a cost effective and environmentally friendly daily commuter.
The main problem for e-bikes is that they are not able to travel long distances before requiring a time consuming battery recharge. Ebikes can travel for approximately 10 to 12 miles at one time. After this, you need to charge the battery again which can take around 8 hours for a full recharge.
Solar-powered electric bikes can continue to charge from sunlight while the rider is moving. Although we may be a little way off from being completely unplugged we are getting ever closer to this goal.
Many companies are trying to make solar-powered electric bikes more efficient while others are making solar cells more powerful, more compact, and more flexible. The industry needs continued advances in solar cells before ebikes can be fully unplugged from the grid. Unplugged ebikes are becoming a reality and we have come a long way in the past two decades.
Currently, cost effective solar panels are to large and cumbersome. There is limited space on current bicycle designs to mount an effective quantity of solar cells.
There is potential for designers to modify ebike design to enable larger solar panels. By using modern technology of solar panels it is possible to fit a greater number of nano solar cells but the cost is high.
Increasing traffic, and use of fossil fuels, are lowering our living and health standards. In particular, urban areas are heavily impacted by pollution and traffic congestion. Air pollution can increase the incidence of many serious health problems such as lung cancer, eye infections, heart, and other pulmonary diseases.
As highly efficient and ultra clean 2-strokes are progressively banned due to misconceptions, we believe that future design of flexible panels and nano solar cells are the most likely path to a fully unplugged solar ebike.
Let us know how you see the future of solar electric bikes.
Motorized Bikes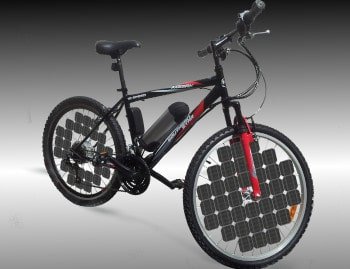 Power Bicycles
Information about motorized bikes
The market for electric bikes is growing rapidly. Solar power provides the dream of a ebike that has no distance limitation. But, how close are we to this goal? - Surprisingly, there are already riding solar powered ebikes that regenerate their batteries from the power of the sun.
Steve
Power Bicycle
http://power-bicycle.com/wp-content/uploads/2023/03/skull-logo-300.webp