Engine Tuning For Motorized Bicycles
The Ultimate guide to tuning a 2-stroke bicycle motor
TUNING A MOTORIZED BICYCLE
Not only is it enjoyable to build a bicycle with a motor, but 2-stroke engines are great fun to tune.
I detail best practice, and the most cost effective approach, to tuning 2-stroke bicycle engines.
Although I focus on tuning bicycle motors, the same principles can be used to great effect with any 2-stroke engine.
If you prefer to have a graphical representation of tuning fundamentals then click here for a 2 stroke tuning infographic.
How Fast Can An 80cc Motorized Bicycle Go?
80cc motorized bicycles, surprisingly, are often slightly slower than 50cc bicycle motors. Before tuning, 80cc bicycle engines can obtain speeds of 28 to 33 MPH. With a few performance parts, 80cc bicycle motors can reach speeds of 60 MPH.
80cc motors also maintain better speed on hills, and accelerate faster than smaller bicycle engines.
Back when MotoGP was focused on racing 2-Strokes, I spoke in depth with a tuning specialist from the Suzuki factory racing team. He was purchasing a 50cc bicycle motor kit from me for a project he wanted to build. 
The Suzuki tuning specialist believed that he could tune a 50cc bicycle motor to reach over 100 MPH.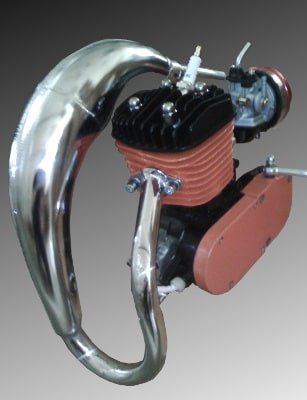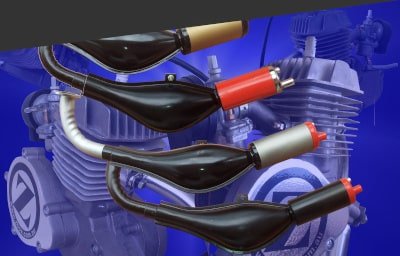 The most common low cost pipe is the "Banana Pipe". This pipe gets its name from the shape of the expansion chamber which resembles a banana. These pipes are very poor designs and seldom deliver much of a power boost.
Properly tuned expansion chamber should be constructed with precise length, inlet and outlet apertures, chamber volumes and angles..
It is important to understand that good expansion chambers are tuned to add most power at a given rev range. The power boost reduces below and above the tuned revs (the resonant frequency).
The best expansion chambers have a length adjustment.  Being able to adjust the pipe length provides some control of where peak power occurs.
A low cost expansion chamber for motorized bicycles will cost around $30 with top flight, well tuned expansion chambers selling for over $150.
A popular carburettor upgrade for motorized bicycles is the Rongtong carburettor. The Rongton carb. is better constructed, and more sophisticated, than the NT carburettor. In addition, the conical air filter and distinctive metallic colors look sharp.
This carburettor provides easier starting, a convenient hands free choke cut-off, and a more consistent fuel:air mixture throughout the rev range. 
There are no  adjustments on the Rongtong carb. There are no mixture screws, metering needle adjustments, and fuel jets cannot be accessed.
Reed valves can substantially lift performance and reed valves for bicycle motors are available from around $35.
The reed valve by itself does little to improve performance. Adding a reed valve will, however, allow the extended duration of the inlet port. 
Extending the inlet port duration allows the motorized bicycle to take in much more fuel:air. 
As this is a complex topic. I cover reed valves in a separate section.
Ultimate Guide to Powered Bicycles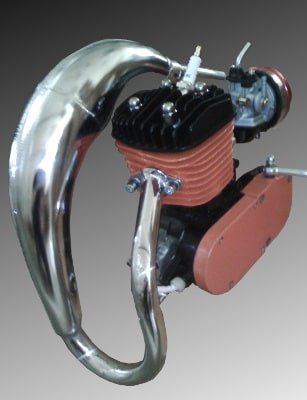 Everything About Power Bicycles
2 Stroke Engine Tuning For Motorized Bicycles
By following the guidelines in this article, it is quite feasible for a motorized bicycle to reach 60MPH.
Steve
Power Bicycle
Publisher Logo