Our electric bicycle review looks at the advantages and cost of owning and running a bicycle fitted with an electric bicycle kit compared with ready made electric bicycles. We wanted to find out how cheap (or expensive) electric bicycle kits really are when compared with purpose built electric bicycles. To provide a complete review of electric bikes, we also:
• compare electric bicycle kits with gas powered bicycle kits.
• We provide a complete analysis of all motorized bicycle options
• provide a financial breakdown of the true cost of owning an e-bike.
• look at the advantages of bikes fitted with an electric bicycle kit
• review the cost of running a bike fitted with an electric bicycle motor
Electric bicycles for sale
Entry level electric bike review
At first glance, we find electric bicycles for sale start at around $700. These are usually low quality compact, or folding, Chinese e bikes that that have a number of issues:
1. Styling is poor – Lets face it, low cost e bikes look like dog doo.

2. Batteries are low in power – Most often the battery packs will be 24 volt, 8AH lead acid.
3. Electric motors are low in power – The low power batteries usually limit electric bicycle motors to 250 watt.
4. They have poor range – low power batteries limit the travel distance to around 10 miles.
5. Poor reliability – Low cost e bikes have poor wiring with inferior bullet connectors
6. No support – Often the same model e bikes will have different wiring joints, wire colors, connectors, and controller specs, from the e bike next to it. This makes it near impossible for retailers to stock the correct spares or provide support.
7. Structural concerns – Entry level e bikes are often folding bikes with small wheel diameter. Small wheels do not ride potholes or bumps well and folding frames can often present a hazard if stressed.
Electric bike giant.
The next section of our electric bicycle review looks at electric bike giant manufacturers who are renowned for quality. Giant electric bikes are the worlds biggest bicycle company. A Korean company, Giant e bikes use the high quality Yamaha electric bicycle motor.
The flagship mid-mounted e bike motor (the Giant SyncDrive Pro) has huge advantages when compared to entry level electric hub motors. The advanced technology provides superior rider feedback, reliability and extends battery usage.

There are, however, limitations of all electric bike giants as they cater for the European market. This means that the giant e bike manufacturers have Pedalec restrictions. This is a restriction that is imposed for Europe but the US and Canada and many other countries are not as restricted. Reviewing Giant e bikes with the mass of competition we find that:
Electric bike giants are expensive
The main issue is that electric bike giants such as Yamaha, Bosch, Giant and others, are typically more expensive than Chinese made, unbranded e bikes.
Entry level e bikes from trusted brand-name manufacturers start around $2,000. This is a competitive price but the the buyer receives a poor looking, low spec 180W model.
To obtain a normal looking e bike from Giant you need to pay around $4,000 and the top spec models can easily exceed $12,000.
Electric bikes with throttle
Electric bikes with throttles are not allowed in the European standard.
Unfortunately, most top brand e bike manufacturers focus on the larger European bike market. This restricts the potential of their electric bicycles for America, Canada and other countries that have less restrictive legislation.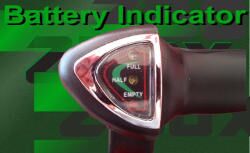 Giant electric bikes are expensive
Entry level Pedalec bicycles are terrible to ride, however, good quality Pedalec compliant e bikes are expensive.
With most brand name e bikes, the US e-bike classes and European 'Pedelec' standard force the rider to pedal in order to engage the electric motor.
Most standard do not allow electric bikes with throttles. The Pedelec and US Class3 standards remove much of the practicality of e bikes as most riders do not want to pedal continuously.
To hide the restricted power, manufacturers specs are often hard to find and difficult to understand.
Where electric motor legislation is expressed in watts, Giant electric bikes (and other top brand manufacturers) express the power output in Newton Meters.
Class 3 e-bikes and Pedelec power
Most brand name e-bike manufacturers have produced e-bikes for the European market. Large manufacturers are pushing for similar standards to be adopted in the US. (You may have noticed that e-bike class restrictions may have been introduced in your state.)
Top brand e-bike manufacturers produce bikes for the European market which are restricted to 250 watts of power.
To hide the limited power output, top brand e-bike engines rate their electric motors in units of Torque.
For example, the Giant SyncDrive Pro can output 80Nm when in power boost mode. This torque figure does not tell us how much power or speed that the engine can provide.
Torque, power and speed are all directly related by the formula:
Torque (Nm) = Power(w) x 9.549 /R.P.M.
As the manufacturers only provides 1 part of a 3 part equation, all we can say is that an engine producing 80Nm of torque is stronger that engines producing less torque.
At 80 Nm, the engine in power boost would output 250 watts when the rider is pedaling the crank 30 times per minute.
Fast riders will pedal at over 70 RPM. This would mean that the engine it could increase power output to over 600 watts when the rider is pedaling hard in power boost mode.
The issue here is that this assumes that engine torque is linear. Manufacturers rarely provide any information about the maximum power.
In the case of most top brand e-bike motors, maximum engine power is 250 Watts to comply with European legislation. In other words, maximum engine power is produced once the ridder is pedaling at 30 RPM. If the rider pedals twice as fast, there is no increase in motor assistance.
The entry level electric motor is the Giant SyncDrive Life (again a Yamaha produced mid-mount engine). This electric motor outputs 60 Nm of torque. This could mean that the rider may be able to obtain power assistance of around 450 watts maximum when rider is pedaling hard. In reality, this motor is most likely to produce a maximum of 250w.
Entry level e-bike class 1,2 and Pedelec bicycles are terrible to ride. Alternatively, good quality Pedelec and class 3 compliant e-bikes are expensive.
With most brand name e bikes, the European 'Pedelec' standard forces the rider to pedal in order to engage the electric motor. The standard does not allow electric bikes with throttles.
The Pedelec standard removes the practicality from e bikes as most riders do not want to pedal continuously.
Electric bicycle kits seem to present good value. Electric bicycle conversion kits are available on eBay and Amazon for around $300.
Considering the environmental advantages of electric hub motors, this would appear to be an acceptable premium over gas bicycle engine kits which typically sell for around $200.
The cost of an electric conversion kit seem to be a massive amount cheaper than ready built e bikes which start around $700 for an entry level no brand electric bicycle.
Review of electric bicycle kits
On further analysis of electric bicycle kits, a couple of issues with cast a shadow over the value of electric bike DIY:
The cost of a good Lithium Ion e bike battery is around the same cost as the electric motor kit itself.
There is the forgotten cost of the bicycle itself. For most people considering electric bike DIY, they will already own a bicycle they want to convert. If including the cost of the bicycle itself, an electric bicycle conversion is similar to the price of an entry level, purpose built e bike.
Similarly, when comparing the cost of fitting a gas bicycle engine against an electric bicycle motor an e bike conversion kit is more than double the cost of a gas powered bicycle conversion.
Why fit electric bicycle motors?
Why would anyone buy a cheap electric bicycle motor conversion rather than an ebike?
There are advantages to converting your own bicycle: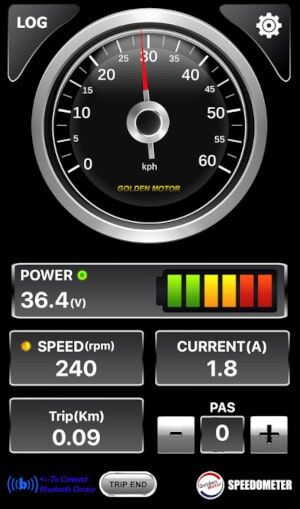 At first you would expect a factory built e bike to be more reliable an electric conversion kit but, unfortunately, this is not the case. Anyone who has owned a low cost e bike will know the unexpected problems that arise. E bikes have a multitude of features that add complexity: Ignition switches, battery level indicators, speedometers, lights and LED information displays are common.

These additional features are great selling points but introduce an additional level of complexity that is not present on electric motor conversion kits. The additional features require a lot of extra wiring and connectors. Every additional connector increases the likelihood that water will corrode or short out a joint, or a jolt will separate a connector.

In addition, e bike cables are concealed inside the frame which makes wires, connectors and joints difficult to access and faults difficult to trace.

By contrast, cheap electric bicycle conversion kits have a small number of easy to follow wires and connectors. Bicycle conversion kits also allow the installer to fit components where they have good air flow. Good air flow is important to cool controller and power cables connecting to the electric motor. E bike designers are focused on aesthetics and house these parts inside the frame or in small, enclosed compartments where they are more likely to overheat.
When you convert your bike to an electric powered bicycle, you can select your preferred battery size, style and type. When we compare the close cost of an electric bicycle conversion with a low cost e bike, the battery is most likely to be substantially better. Most low cost e bikes will have an entry level 24 Volt, 8 AH (Ampere Hour) battery to save cost. If you are converting a bicycle to electric power, you would be able to purchase a cheap electric bicycle conversion kit with a lightweight, 36 Volt, 12 AH battery for less than the cost of an entry level e bike.
3. Better quality bicycle
The next advantage of converting your bicycle to electric power is that you usually convert the bike you like and use. If you are a mountain bike enthusiast, you have probably invested in a rugged mountain bike with a strong frame, suspension and heavy duty forks.
Fitting your bicycle with an electric motor will most likely be far lower cost than buying a purpose built ebike with the same specifications,
Similarly, if you enjoy road riding, you may have invested in light frame bike with expensive gears and bearings, board track racers will have the image, stance and patina that you want. Whatever your ride, be it a cruiser, sand bike or even a penny farthing, you will be converting the bike that you enjoy riding.
If you want an electric bike of 1000w or more then conversion kits have further advantages. There is a limited selection of "off the shelf" electric bikes 1000w or more. Most purpose built e bikes have between 250w to 500w power plants. The reason for this is primarily battery limitations.
Customers want electric bicycles to look and feel like small motorcycles. To provide good travel distance on 750w or 1000w electric motors, batteries need to be substantially heavier. The bicycle frame, suspension and battery need to be larger, heavier and stronger.
If you have owned a stealth bomber (1000w electric bicycle) there is great speed but the batteries are heavy and the bike is robust. The bike becomes more like a motorcycle than a pushbike and the price reflects this. Stealth bomber 1000w, and other electric bicycles in this class, have a starting point of around $6000.
At this price, electric bicycle DIY becomes a very cost effective alternative.
Stealth electric bike 1000w
'Stealth' have pioneered a range of more powerful ebikes aimed primarily at the American and Canadian markets.
Stealth are one of the few companies to have realized that many riders want a powerful electric motor with a decent range of travel.
Their approach is simple
A powerful motor – Anywhere form 500w, 1000w or even 3000w
The largest battery that a bicycle can reasonably accommodate.
Great styling
Stealth realized early that there was a market for a range of powerful e-bikes in America. They provide what many riders are looking for in a sleek styled, powerful electric bicycle.
They sit in the mid to expensive price range for electric bicycles but offer an American focused product that the top brands are missing.
There are Chinese replicas to the Stealth range, while other manufacturers have captured the same concept. Chinese brand e-bikes with similar power sell for a similar price.
Given the lack of quality and support together with random wiring that we have seen in Chinese brands, Stealth continue to have a huge market advantage.
Frey is an up and coming e-bike manufacturer that has adopted a similar approach to Stealth – Powerful 1000w and 1500w plus electric motors with a large capacity battery.
Frey are, however, targeting the e-mountain bike segment. Frey are developing e-bikes for dirt track riding, rather than the more street focuses Stealth Bomber e-bikes.
Frey bikes are trying to keep weight down as possible. Their e-bikes use powerful 1,000w or 1,500w mid mounted engines from Bafang.
Mid-mount motors have more even weight distribution than the heavy rear hub motor of Stealth e-bike. The weight is carried lower in the frame and distributed evenly between front and rear wheels.
The Frey Beast has a 1,500w mid-mount engine with a huge 30AH 50volt battery. It has more sophisticated rear suspension and nobly tires intended for mountain bike riding trails.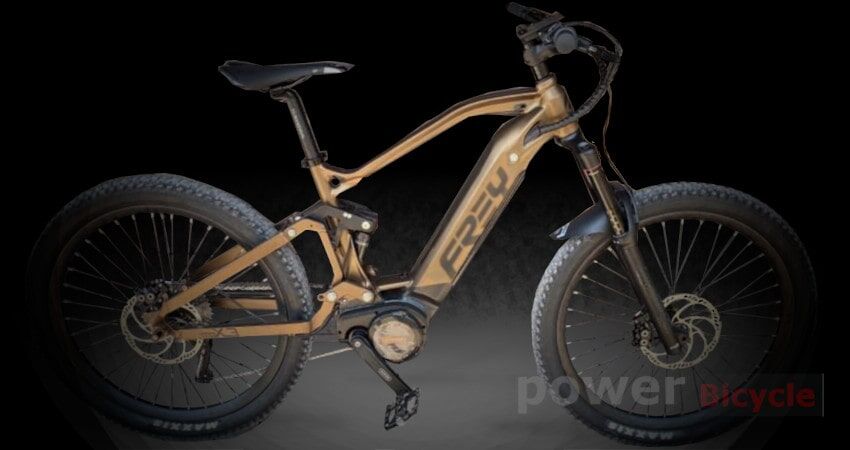 Of the three major powered bicycle options we have reviewed, there are reasons to choose each.
The most cost effective and powerful option is a gas powered bicycle engine kit. Gas bicycle motors are, however, smelly and oily so have to be kept outside. They lack the smooth, silent and clean running of an electric bike.
Good quality electric bicycles for sale over the counter are comparatively expensive for reliable brand name models. In addition, top brand e bikes are often limited with 250 watt engines.
Electric motor kits for bicycles provide a good option for DIY enthusiasts. They allow the rider to build a good quality, more reliable, electric bicycle with a more powerful battery at a lower cost than a brand-name e bike. A good electric bike DIY will typically be around the same cost as an entry level e bike, but should be more reliable, more serviceable and have a more powerful battery pack.
Ultimate Guide to Powered Bicycles
Everything About Power Bicycles
A review of the advantages and costs of owning and running e bikes. We compare electric bicycle kits against ready made electric bicycles. We examine the cost of ownership of DIY compared to off the shelf electric bikes.
Steve
Steve Baillie holds a degree in electronics and electrical engineering and has over 20 years working in the e bike industry
Power Bicycle
Publisher Logo