2 Stroke Engine Tuning INFOGRAPHIC
Follow the guidelines in this article, a motorized bicycle could reach a top speed of 60MPH.
2-Stroke Tuning Infographic - Unlock the Potential of Your Bicycle Motor
Welcome to our easy to understand infographic on 2 stroke bicycle motor tuning for maximum power and performance.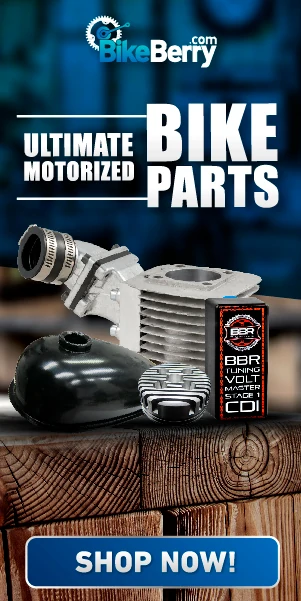 Please include an attribute to http://power-bicycle.com with this graphic.
Performance parts are key to tuning your bike's engine for optimal speed and acceleration. This easy to follow data visualization is packed with tips and tricks to get the best from your motorized bicycle. Including:
performance carburetors,

reed valves, 

piston porting, 

large bore cylinder and piston

high compression heads to increase compression ratio, and 

tuned pipe
The information graphic provides the latest, and most effective techniques, for tuning your 2-stroke bicycle engine. 
The visual representation is designed to help you to unlock the potential of your 2-stroke bicycle motor easily and quickly. 
So why wait? Check out our infographic on 2 stroke bicycle motor tuning now to take your motorized cycling experience to the next level. 
WHAT SPEED CAN BICYCLES WITH MOTORS REACH ?
Owners who have fitted untuned 50cc bicycle motor expect to reach speeds between 25 to 35 MPH.
With tuning, we can cost effectively obtain top speeds close to 55 MPH
How Fast Can Your Motorized Bicycle Go?
Whether you're an experienced motorized bike enthusiast, or just starting out, our infogram guide is designed to help you tune your 2 stroke bicycle motor for optimal power and speed.
The infographic covers the essential of 2 stroke engine performance upgrades, system interaction, and more.
OTHER ARTICLES ON TWO STROKE PERFORMANCE TUNING

If you require greater detail on other 2 stroke tuning topics, I have detailed articles on:
These articles are focused on increasing the top speed of motorized bicycles. If you want greater technical detail, or are seeking a different design perspective, then click here for a great academic paper on 2 stroke tuning.
HOW TO MAKE YOUR MOTORIZED BICYCLE FASTER
There is also a best practice tuning process that pulls all the tuning sections together. (see links above for detailed 2 stroke tuning articles).
The article, "2 stroke engine tuning for motorized bicycles" is a logical step by step approach to tuning.
This is the best place to start as it provides a logical, low cost progression to the tuning process.
This infographic guide for 2 stroke bicycle motor tuning provides a visual representation on how to improve the power and performance of a bike engine.
The guide covers various performance parts such as carburetors, reed valves, piston porting, large bore cylinders and pistons, high compression heads, and tuned power pipes.
The infographic is designed to provide easy-to-follow tips and tricks for motorized bike enthusiasts to optimize their 2 stroke bicycle motor for maximum power and speed.
The guide includes information on essential 2 stroke engine performance upgrades and system interaction.
Check out the infographic to unlock the full potential of your 2-stroke bicycle motor.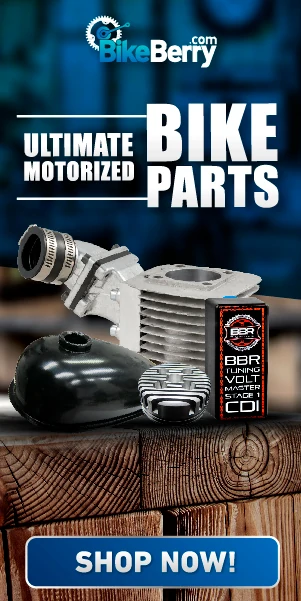 Motorized Bikes
Power Bicycles
2 Stroke Motorized Bicycle Tuning Infographic
Information about motorized bikes
This infographic provides guidelines to tune a motorized bicycle enabling it to achieve a top speed of 60MPH or more.
Steve
Power Bicycle
http://power-bicycle.com/wp-content/uploads/2023/03/skull-logo-300.webp