Motorized Rat Rod Bicycles
Motorized Rat Rod bicycles have been popular for decades, but never more than today. I examine why you should build a rat bike, how to start your motorized bicycle project, and I provide tips on how to perfect the look of your rat bike.
I look back at our past two decades of rat rod bicycle projects and pick out the best that may inspire you to build your own creation. By providing a gallery to showcase the best pictures, I hope to inspire you to start your own project.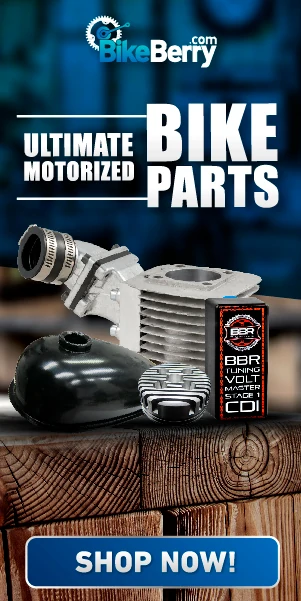 As the name suggests, the rat rod bike was born from an off-shoot of rat rod bicycles. Rat rods originated from a combination of 'ratting' parts from many sources to create cheap performance hotrods.
Initially, builders had no cash for aesthetics, but they put their "hard earned" into lowering run times at the drag strip. As hotrod bikes developed, the rat bike emerged. Enthusiasts found the old, rusty appearance appealing and emphasized the shabby look. Builders shifted their attention from performance to the appearance of the bike.   

Over the decades, rat bike styling has developed. The rat rod bicycle has revolved around low set chassis and saddle, with matt black, or shabby, patina'd paintwork.
As bikes branched into a shabby image, less emphasis is placed on performance. More recently, the rat rod ebike has become popular.
Now, styling has developed to encompass a variety of looks. Low slung chassis and patina'd paint are the core trend, however, rat rod bicycle parts can be fabricated from odd places, wild looking bicycles, or even old, patina'd bikes, are all classed as rat bikes.
When did rat rod bicycles become popular?
Rat Bike styling has been a part of Americana since the 1960s when hot rodders and custom builders started converting old bicycles into fun machines with offbeat modifications. 
While Rat Bikes have been around for decades, low-cost bicycle motor kits have seen the revolution become mainstream since the '00s.
Building a rat rod motorized bicycle
Low-cost bicycle engine kits fitted on an old bicycle lend themselves perfectly to creating a rat bike.
Cheap builds, and the idea of riding a bicycle far removed from the norm, is what makes rat bike projects appealing.
Fitting a bicycle engine kit onto an old bike is the foundation of the art form. Fitting the bicycle engine and parts is 'ratting' 101. An old bike fitted with a dull, battleship gray, 2-stroke engine, weathers quickly, and after installation, the engine helps to age the bicycle's appearance.  
The regular black petrol tanks always look out of place on a bicycle to give any bike an instant "ratted" look. It is difficult to un-rat a gas powered motorized bicycle, and it takes a lot of time and paint to make a motorized bicycle look as though someone did not rat it together.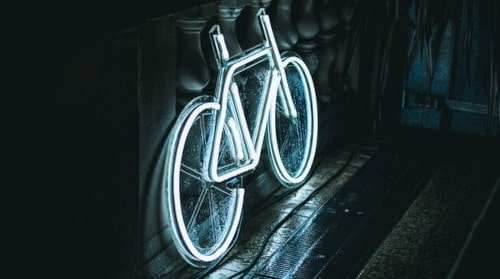 Are you ready to ride the coolest bike in town? I have hand-picked the most unique and creative Rat Rod bicycles that I hope will inspire you. These bikes are a true work of art and will turn heads wherever you go. My selection of retro, vintage, and modern bikes all make a style statement.
Rat rod bicycles are most often low slung. Lowering the frame, dropping the handlebars and using smaller wheels can all help lower the stance of the bike.
Brown or matt black paint helps to age the appearance of a rat bike. 
Lightly sand petrol tanks to buff the shine from the paintwork, or to expose the metal below which will quickly develop surface rust for an aged patina. We can then spray rusted parts with lacquer to seal in the corroded look.
If you have a cruiser style bike, coffin shaped gas tanks available that fit beneath the top crossbar. These tanks are perfect for creating a Bobber Indian replica or just adding an unusual element to your project.

Wooden paneling can add a little 50s period drama to a Rat Bike.
Fitting a bicycle motor kit instantly creates a basic rat bike, and rounded cylinder heads add an older style to the motor.
   If you are fitting a gas bicycle motor kit, then consider changing the cylinder head for an old style. 'Rounded fin' head.
We have further building tips on how to install a bicycle motor.

I've put together a picture gallery of my choice of the best rat rod bicycles that showcase the art and craft.  I hope to show your that enthusiasts with even basic DIY skills can produce a great Rat Rod bicycle. My customers have built these rat bike bicycles with only a few basic tools, heaps of imagination, and lots of enthusiasm.  
Many rat rod bicycles are simply old bikes fitted with a 2-stroke engine kit. The rat bike gallery features the more unusual builds in a variety of styles that may give you ideas for your own rat bicycle project.  
Some of my choices are simple builds with imaginative styling concepts. Other choices appear relatively mundane, but involve hours of subtle, intricate work.
To bring some order to the chaos of the rat rod bicycle world, we have tried to group the multitude of original builds into themes. Although each bike has a style of its own, we have created a gallery of works in five key themes.
Chopper Rat Rods

Cruiser Rats

Low Rider Bikes

Bobbers, and

Bobber Indian vintage bikes
Jamie Contreras fabricated Vicious Vinny in 2015. Renowned for his stretch choppers, his motorized rat rod bicycles are impressive. Designs are heavily influenced by old school, Easy Rider choppers of the 70s. The bike has "big dog" extended footrests on a low slung frame
A mismatch of colors, the Harlem Hooker this Schwinn based bike is built to stand out and make a statement.
The chopper is a popular style of custom bicycle for owners searching for a unique look and an eye-catching set of wheels that will stand out on any street. Chopper styling transforms a normal bicycle into a radical custom, taking it to a whole new level of attention grabbing. 
The chopper rat rod bicycle is much like its bobber cousin but with the addition of extended forks and a few other mods. Choppers often have small front wheels and chunky, fat rear tires.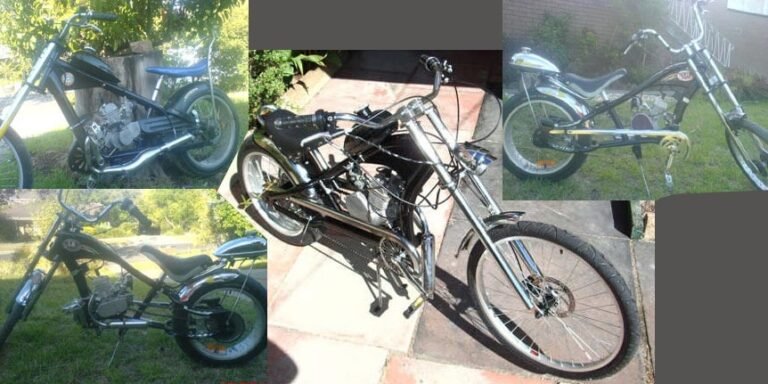 These great looking Schwinn Choppers have been ratted by simply fitting bicycle motor kits. No further mods have been made to the frame or paintwork although some of the fitting ideas are odd.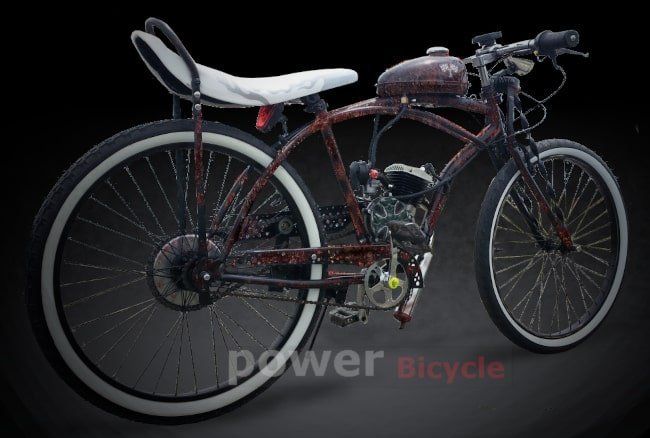 Cruiser Rat Rod Motorized Bicycle
We've all seen the bike that's so rusted it looks like it's been stranded at the bottom of a river, or the bicycle that's had a fresh coat of paint, but the paint job looks like finger painting. These Rat Rods are all about style.

This cruiser rat rod bicycle was fabricated by Jules in 2015. The patina has been sealed with laquor and the tuned 80cc Zeda power plant has been tuned by Octane Zombie.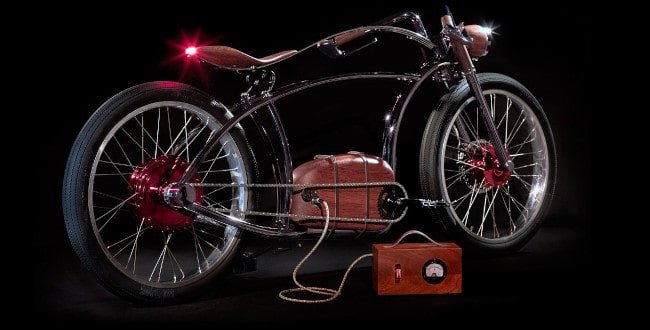 A Rat Rod ebike is unusual. This modern electric cruiser bike presents a clean, ratted image to compliment the clean concept of electric powered vehicles. The bike uses wooden battery box, wooden headlight, brown saddle and bar grips that hint at yesteryear. This electric motorized rat bike is a modern take on the board track racers of the 1930s.
The classic cruiser, or roadster, has been around since the mid-20th century. This bike is a slice of Americana. Cruiser rat bikes look and ride like classic roadsters from the 1950s. 
The cruiser will usually have lowered handlebars and, most likely, be using stock, or vintage style springer, front forks. A black muffler is a great way to help give the bike a classic roadster or cruiser look.
Cruiser Motorized Bicycles
I have included these three motorized cruiser bikes to show how a bicycle motor kit can quickly rat a bicycle.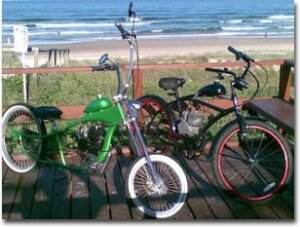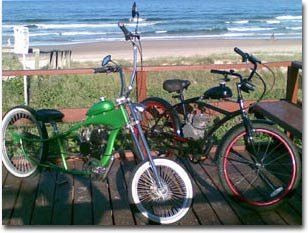 Wonder Boy - Low Rider Rat Rod
Mark Brereton from Miami worked on a number of motorized bicycles with elongated frame and ape-hanger bars. He called this one 'Wonder Boy'. Mark followed this up shortly after with 'Rat Ant', a continuation of this design. The progression of the Rat Rod style resulted in the Rat Chomper bike (below). The bike uses a Zeda 80 cc motor with a Triumph Bonneville tank. The bike has a straight through exhaust. Needless to say, it was a revolution in how motorized bicycles were conceived at the time.
With the ultra-low geometry of low rider rat frames compared to the style of other rat bikes, this style of motorized bicycle is all about scraping the ground.  
Like most rat styled bikes, the low rider has no rear suspension to comfort the rider, but often has front sprung forks to help absorb bumps. 
I am going back over 20 years here with low rider designs that were coming from Miami. The laid back, low rider concept and ape-hanger bars are  synonymous with beach culture.
The mismatched, over-spoked wheels and whitewall tires made it a great rat for its era.  The straight through exhaust had a great sound.
This bike turned heads in more ways than one.
This is a later motorized rat rod from Mark Brereton. You can see the bright paintwork of his earlier models has been replaced with dark green patina'd paintwork The standard bicycle motor kit muffler has been replaced with a tarnished straight through pipe which follows the contours of the bicycle frame.
This low rider looks great, but is a relatively straight forward build. The silver low rider frame has been sanded along with the gas tank from a bicycle motor kit. Sanding paint back to expose a little metal soon forms a great patina.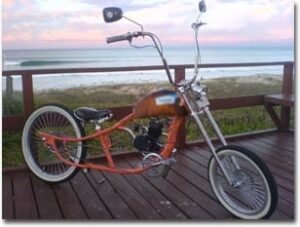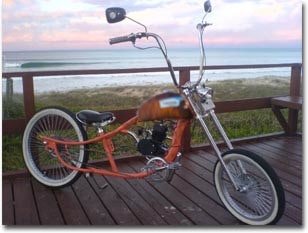 Rat Chomper is the quintessential rat bike of the early '00s. The rusted frame and tank from a Triumph Boneville accentuate the ratty appearance.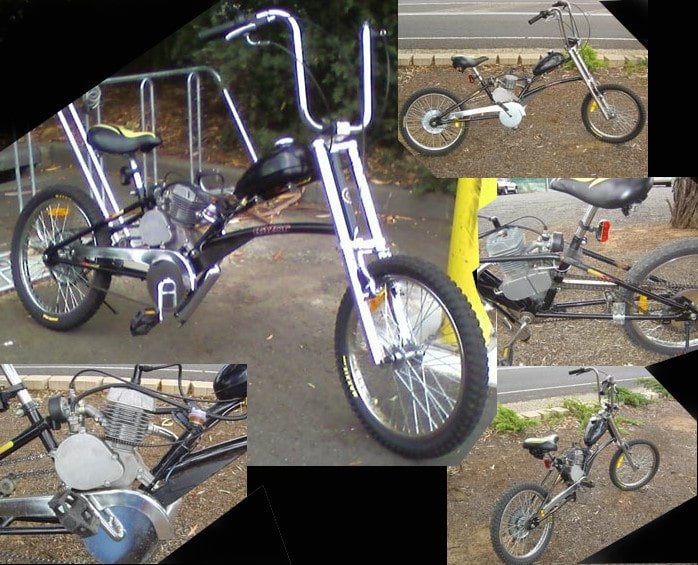 This great looking low rider has been ratted by simply fitting a bicycle motor kit. No further mods have been made to the frame or paintwork.
A short frame with a 'cut off' rear end is the essence of a bobber rat bike. The saddle is low, and set back close to, or over, the rear wheel. Bobber bikes commonly have a high steering head with straight handlebars.
You can have a lot of fun on these bikes, and they certainly draw looks. You will be in a hurry to put lots of miles on them.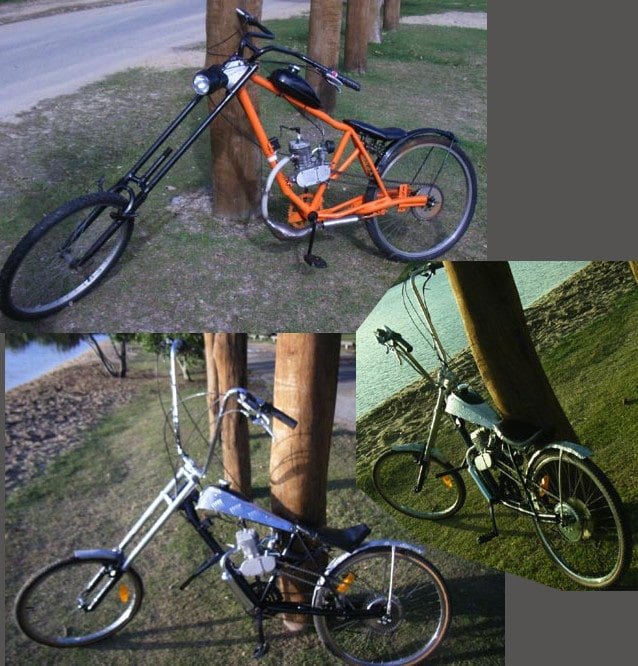 Taking its name from the burnt orange frame, with extended black forks and ratted muffler, Flem was coughed up by Darren Smart. Darren later produced several renditions of Nightshade. The coffin tank, ape-hangers, and banana seat of Nightshade first saw life in 2004 and has since seen quite a few motors.
The work that went into fitting an engine into this crazy frame is sensational. The Purple Nurple is a range purple frame, ratted white tank, black handlebars and chrome fenders This bike features because of the radical mechanism of chain pulleys that were ratted together to make the bike work.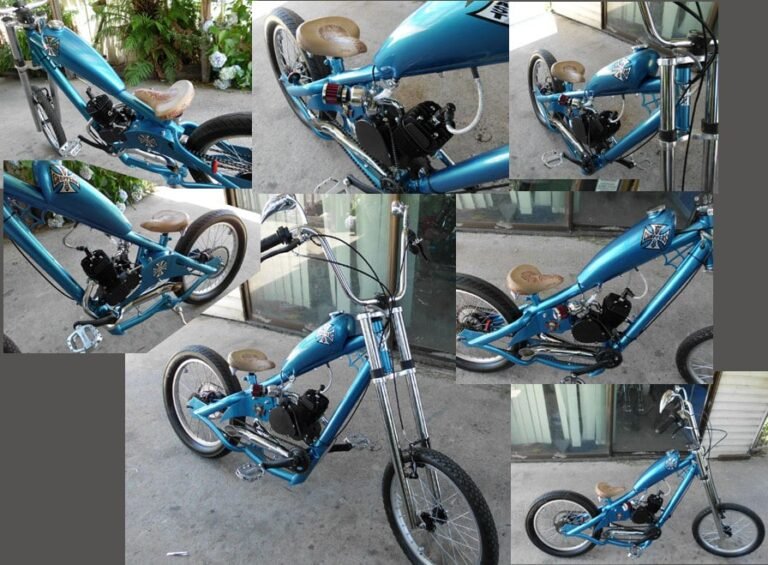 William Tyrell fathered Blew Dew. The name was inspired from the blue paint and dew drop tank. The minimal rake on the front forks with low seat, and ape-hanger bars give this motorized rat rod bicycle a stunted appearance. With a little work, Blew Dew could look like something straight off the set of the Walking Dead.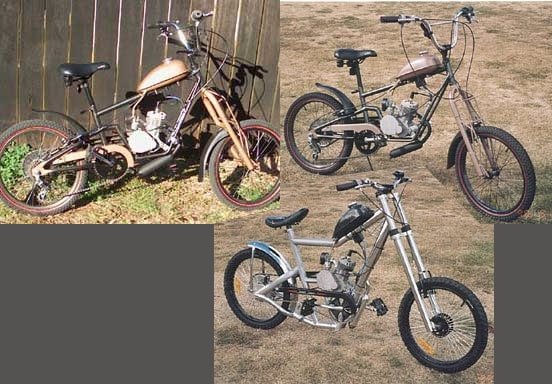 First built in 2003, Quadzilla's have evolved over time. The creator, Ivan Grant, still travels across America on tours. The bike has comfortably taken its owner over 100 miles in a day. Quadzilla features short, straight handlebars and short, black mufflers that suit the bikes perfectly. The mismatched paint give the bike an outstanding ratted look. The bent and dropped frame of the latest model is handcrafted from top-quality aluminum. The Quadzilla bikes could easily have come from the film set of one of the Mad Max movies.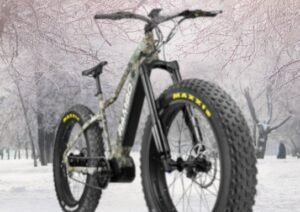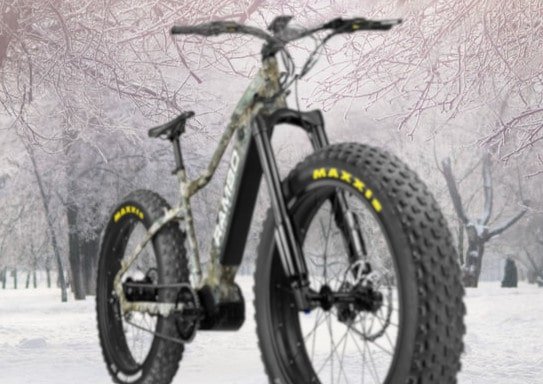 The camo paint on hunting bikes, along with oversize tires,is a great starting point for a rat bike project.
This fat tire bike has patina paint and a front wheel electric conversion. The smaller front e-bike wheel adds to the ratted appearance.
Fat Tire Rat rod bikes are traditionally built tough but there's an undeniable cool factor to them that makes them unmistakable. 
Fat tire rat rod bicycles are built to handle soft terrain and they are at home on muddy trails or sandy beaches. They're often equipped with big, knobby tires, and long travel shocks to help transfer the engine torque to softer ground. If you're going to be cruising in the woods on a fat tire bike, then you want it to be tough.
Nobly, soft tires make fat tire bikes great for rough trails. Add a patina, or camouflage paint to a quiet electric motor and fat tire bikes become perfect for hunting.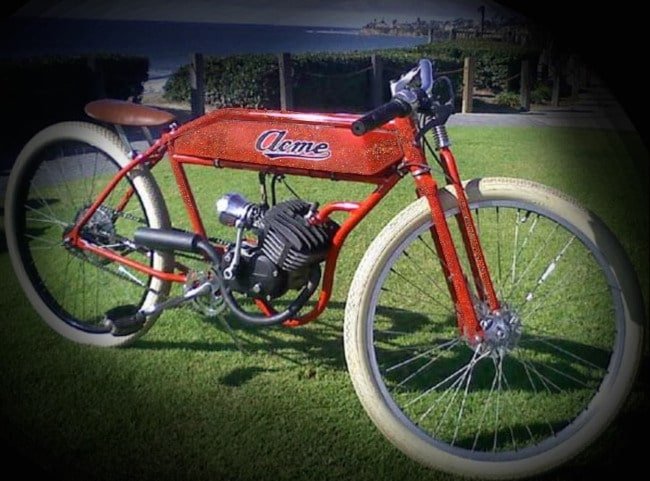 This bobber Indian replica has a 110cc engine and is a great example of vintage board track racer
The bobber Indian was the first rat rod bicycle. Although the Rat Rod name had not yet been coined, vintage board track racers were the Genesis of Rat Bikes.
The vintage board track racer has provided many of the queues that started rat rod styling. They have a nostalgic element which many riders relate to. Where heavy metal and hard rock bands can trace their roots to Led Zeppelin, motorized rat bicycles can trace their roots back to the bobber Indian.
Bobber Indian bikes are the essence of a rat bike. Upside down handlebars, a set back saddle, and every mod that riders could think of in the day to lighten their bike. More than this, survivor bobber Indian bikes have a century for rust and patina build up.   
The bobber Indian bike with its cylindrical tank is perhaps the most iconic board track racer, but there are many Harley Davidson and British bikes of the era that heralded the commencement of the rat bike era.
Bicycle motor kits provide a great starting point to replicate vintage board track racers and bobber Indian bikes.
Do you want to make the statement, "There is nothing wrong with what I ride!"? That's the goal of the original two-wheeler rat bike.
Rat bike bicycle builders prefer to invest their time in a personal bike that is unique and original. The aim is to make a bike look old, eclectic, and authentic.
Originality is best achieved by customizing an existing bicycle, rather than looking for something store bought. 
It is a relatively simple task to convert a motorized bicycle into a rat bike. A little paint, sandpaper, and a few customized parts can transform a regular two-wheeler into a rat bike.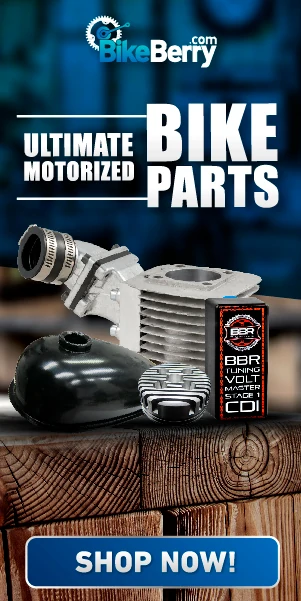 Motorized Bikes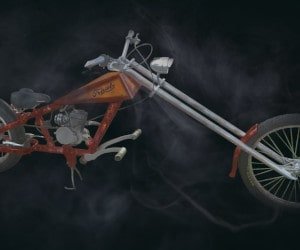 Power Bicycles
Rat bike motorized bicycles
Information about motorized bikes
Are you tired of seeing the same old bicycles? Check out our website to see how to transform your bike into a unique and stylish ride that will turn heads wherever you go. Rat bikes can be created from any type of bike, whether it's a cruiser, a mountain bike, or even an electric bicycle. Click to see our gallery of Rat Rod bicycles and learn more about Rat Bikes.
Steve
Power Bicycle
http://power-bicycle.com/wp-content/uploads/2023/03/skull-logo-300.webp