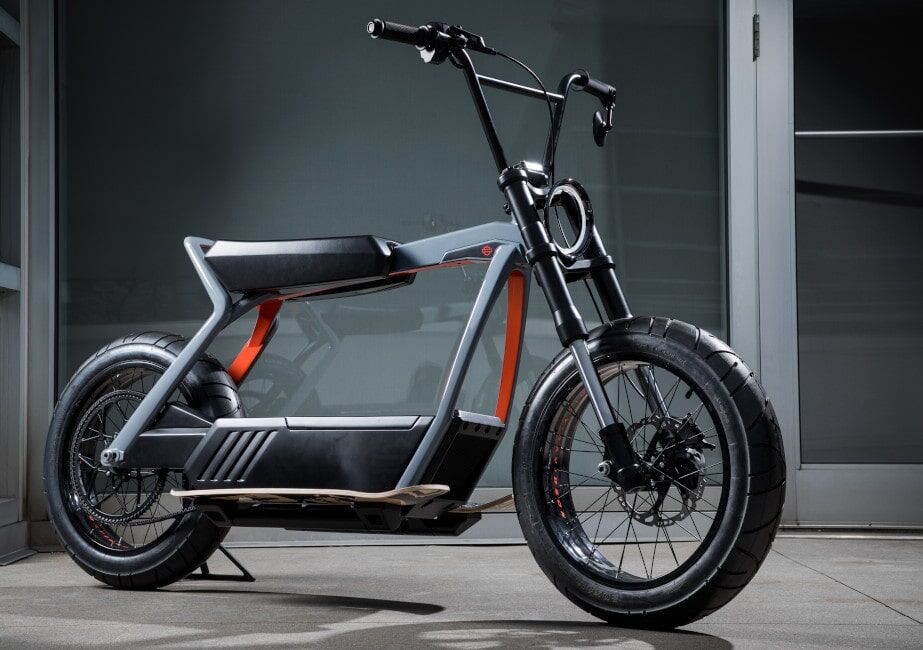 Maintenance and care for electric Bicycles
There are a number of items that require regular maintenance to properly care for your ebike. Inspecting spokes on hub motors, protecting the electrics from water ingress, ensuring connectors remain tight and free from corrosion and best practice for batteries are all necessary maintenance items.
Purchasing an EV is expensive and checking some regular maintenance items every few months will extend the life expectancy of your investment.
Most riders are familiar with traditional bicycle maintenance: cleaning and lubricating the chain, checking steering head bolts, gear selector and brake adjustment are obvious. But there are a lot more important items to care for if you own an ebike. We have a look at the major items that require regular attention in order to keep your ebike in tip top condition.
Reliability of electric hub motors
The first item of concern to new ebike owners is the reliability of electric motor itself. Over more than two decades, we have rarely seen any issues with hub motors. We have found that the motor itself is the most reliable part of an ebike. Electric hub motors do, however, contribute to common problems with ebike reliability.
Ebike spokes can be difficult to obtain
The extra power and weight of ebike's means that they are more susceptible to spokes loosening and breaking. Broken spokes are a pain to replace on ebike's. We struggle to find any stores that stock spares for rear wheel hub motors. Even specialist ebike stores rarely stock spokes. Spokes for the wheel of hub motors are shorter in length and thicker than regular bicycle spokes.
Checking your spokes regularly is one of the most important maintenance items, especially if you are a heavy rider, use the bike off road, or have a high powered hub motor. The rear wheel takes most of the riders weight and is the most popular location for the hub motor. Spokes on the rear wheel require more regular attention. There is a simple check for loose spokes. Run a screwdriver shaft around the wheel allowing the shaft to gently bounce of each spoke as it passes. If the spokes are tightened correctly, they will all have the same pitch "clink" as the screwdriver touches each spoke. If a spoke is loose, it will sound dull as the screwdriver touches it.
One loose spoke can quickly escalate
One loose spoke can have a rapid knock on effect. One spoke can rapidly deteriorate to three or four and quickly leads to spokes breaking. Tightening spokes is a specialist task. If spokes are not tightened correctly, the rim can twist which cause problems not only with the wheel but with tires rubbing against the frame and poorly adjusted caliper breaks.
The simplest and most fundamental issue with ebike maintenance that we see in our service center is low tire pressures. Check the tire pressure rating on the side of your ebike tire. For road use, most ebikes require tire pressures of over 40psi and some ebikes recommend pressure over 60psi.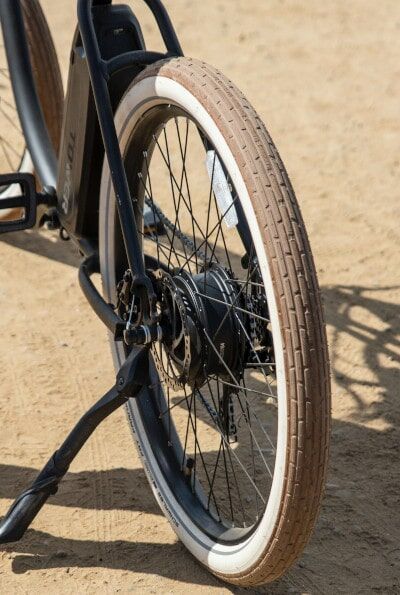 Riders are not often aware of the high pressure requirements of ebike tires. We often see bikes with pressures under 10psi.
Tire pressure is very important to ensure best performance and, even if you are using your e mountain bike for dirt tracks, 25psi is a minimum we would recommend. Soft tires not only wear out their tread faster but they place a heavier load on the motor. Heavier engine loads leads to reduced travel distance and more heat through the wiring and electronics.
Note that many ebike valves require an adapter to connect to a pump and garage pumps. If you require an adapter, most bicycle stores sell inexpensive Schrader adapters.
Tire choice is also something to think about. You should choose a tire that suits your riding terrain. Mountain e bikes are very popular and are fitted with knobblies intended for dirt track riding.
We find that only a small percentage of e mountain bikes are used off road. If you use your bike mostly for tarmac roads, then a smooth road tire has many advantages. They help increase your top speed, extend travel distance, they are quieter, last longer and provide better cornering and breaking on hard road surfaces.
Waterproof sensitive electrics
Electric bikes can be ridden in wet weather without major issues although frequent wet weather use can reduce life expectancy of your EV. A little maintenance can help your electrics survive wet weather riding. Electrics are more prone to failure if you frequently ride in very wet conditions. Our years of experience with ebike's have provided us with a number of useful tips which will help you care for your ebike if you ride in wet weather.
The most sensitive component on an ebike is the controller. On the majority of ebike's, the controller is stored in a housing between the pedals at the bottom of the frame. Manufacturers often seal the controller housing in an attempt to keep water out. Water tight seals can, however, cause a major problem.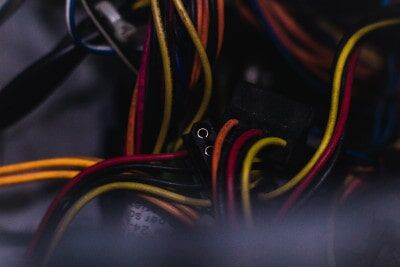 A bunch of electric cables have to enter and exit the controller housing. Cable access holes are positioned in the front and rear of the housing about 1 1/2" above the base. Several wires are wrapped together and exit the access holes through rubber grommets to protect from chaffing. In wet conditions, road water spraying from the front wheel is constantly lashing against the wires exiting the front of the housing. It is inevitable that some water will enter the housing. If the access panel is sealed (as most manufacturers do), the housing fills with water over time and the controller sits in a pool of liquid.
This problem can be easilly corrected.
First, we advise that you drill a couple of 1/4" holes in the lowest part of the controller housing. We suggest 1/4" as smaller holes can become blocked with muddy water. If you use a left mounted side stand when storing your ebike, then the bike will be tipped to the left side. Most controller housings provide access panels from the left side. You can simply remove the cover plate and grind a couple of breather holes in the face of the housing.
Small holes in the bottom of the housing will not allow significant amount of water to penetrate but will allow water to drain. the drainage holes also allow a little air to circulate in the housing which helps with heat dissipation.
Are the wires that exit the controller housing wrapped in tape? If they are, then make sure that the wrapping covers the full length of the cables until they enter the frame, handlebars or other covered areas.
We often see wires that are wrapped for a few inches after they exit the controller housing. This prevents the wires from chaffing and allows the manufacturer to route wires direct to components. The issue here is that if the wrapping only extends a few inches outside the controller housing then it is providing a tube for water to enter the housing. Water splashing on the unwrapped wires will follow the wire into the wrapping and have a direct route into the controller housing.
3. Seal wire access points entering the controller housing
The next stage is to minimize the water entering the controller housing. It is almost impossible to completely prevent moisture from entering the housing but we have found hot melt glue to be the best option here. Use hot melt glue to seal the gaps between wires entering and exiting the housing. Silicone bathroom sealant is another option here but we find that hot melt is a little more durable as it doesn't flex as much when riding.
4. Seal the controller unit
Controller modules themselves can be better sealed. Most controllers have a rubber seal around the access panel and have a rubber grommet to protect the wires from exiting the module. Silicon sealant or hot melt glue around the wires exiting the grommet is great preventative maintenance to help care for your ebike.
Following tire pressure and design, bolts and Alan keys should be checked regularly. The main bolts that work loose are the head Alan Key and stem Alan Keys that connect the handlebars with the front wheel. It is important not to overtighten the head Alan Key as this will lead to stiff steering and excessive wear on the steering bearings.
The saddle stay bolt which holds the saddle in position and the front and rear derailleur bolts which affect gear shift changes. Not only can gears grate and miss selection, you can also shed a chain if these are out of tolerance.
Maintenance for your battery pack
Electric bike batteries can be 40% to 50% of the cost of your EV. Care for your ebike battery is an essential part of regular maintenance. Extending the life of your battery by a year could be a huge saving in the running cost of the vehicle.
As the battery of your electric bicycle is a significant investment in itself, we have dedicated a complete section in how to care for your e bike battery.
Ultimate Guide to Powered Bicycles
Everything About Power Bicycles
EBike maintenance and care instructions
We provide some simple maintenance items that will extend the life of your ebike. These items are overlooked by most riders but simple, worthwhile care that will protect your investment. This article highlights the best practices to get the most from your bike.
Steve
Power Bicycle
Publisher Logo