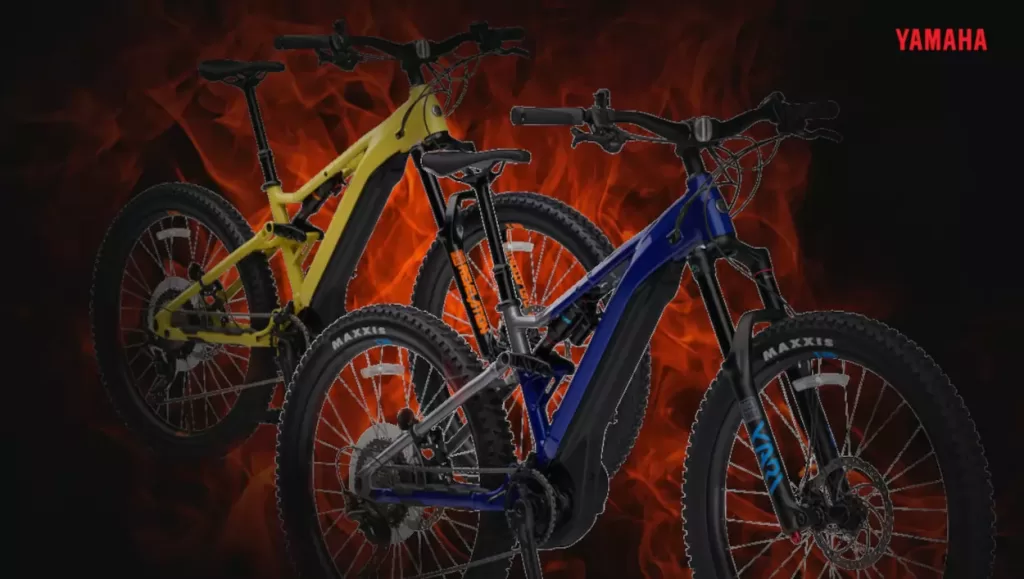 Yamaha Power Sport. The forgotten electric assist mountain bike
Many motorcycle manufacturers have their sites set on the ever growing electric bike market. Major vehicle manufacturers have realized the popularity of the electric mountain bike and the competition is getting hotter every year. In contrast, Yamaha Power Sport has been producing electric assist mountain bikes for years.
Many popular motorcycle manufacturers have recently seen the light. Harley Davidson's Serial 1 e-bikes, and Triumph Trekker GT, have entered the e-bike market with their 250W commuter models. BMW has a more powerful, fast, stylish, full suspension e-MTB for the American audience. 
Dirt bike specialists Husqvarna produce sharp styled, 250W, full suspension electric mountain bikes, as do top quality motorcycle brand Ducati. Even the most famous off-road company, Jeep, provides a powerful, fat tire, hunting bike.
Yamaha Power Sport created their first prototype e-bikes in1989. They claim to be the first company to produce an electric assist e-bike. 
In addition, Yamaha Power Sport produces one of the world's most popular e-bike motors used on brand name, power assist mountain bikes. There are over 4 million e-bikes using Yamaha Power Sport electric motors. 
Yamaha Power Sports have been in the e-bike business longer than any other manufacturer. They are the leading force in race winning dirt bikes. 
Was it stupid of me then, to have high expections of their full suspension electric assist mountain bikes? I got my hands on the Yamaha YDX Moro full suspension mountain bike to find out.
Yamaha electric assist mountain bike
Yamaha Power Sport have created a range of electric mountain bikes to compete in the highly competitive electric bike market. 
Yamaha electric assist mountain bikes comply with European 250W power assist legislation. This very restrictive legislation is similar to the US class 1 electric bike restrictions.
Yamaha electric assist mountain bikes are built to comply with European 250W power assist legislation. This is very similar to the US class 1 electric bike restrictions which has been adopted by many US states.
We investigate the Yamaha YDX Moro power assisted mountain bikes, the YDX Moro and the YDX Moro Pro.
Yamaha Power Sport is a major force in performance dirt bikes, but few realize how significant their power assisted mountain bikes have been. 
With Yamaha power sports dirt bikes dominating off-road racing, I anticipated something very special from their electric assist Mountain bikes.
I test Yamaha's electric engine on their YDX Moro mountain bikes. I evaluate their frame geometry, what the bikes are best for, and how the YDX Moro models compare against the competition.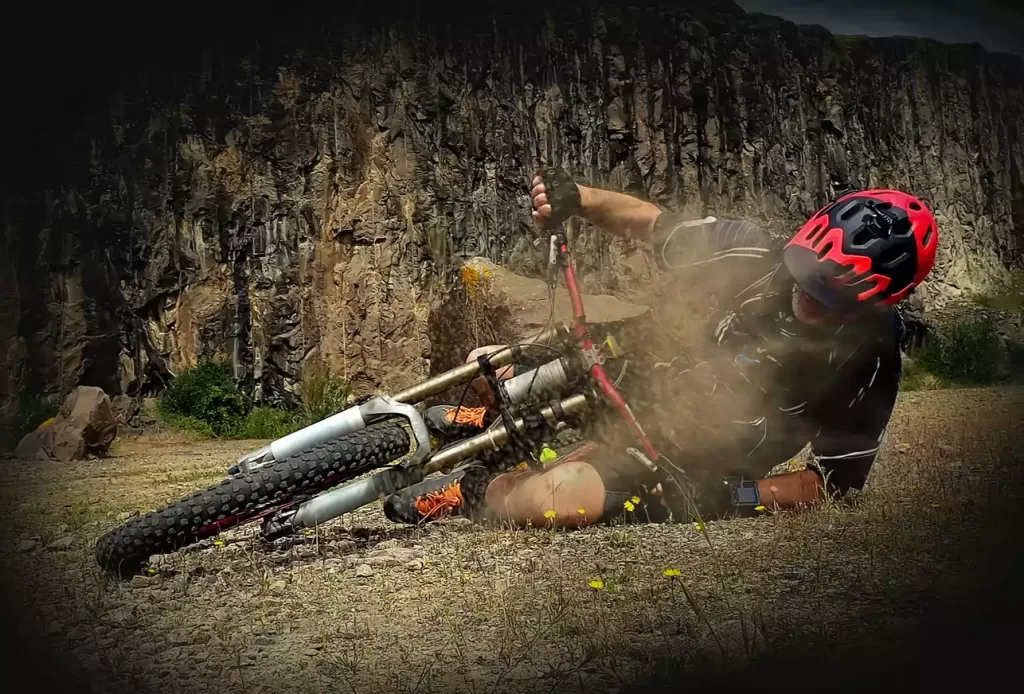 The Yamaha YDX Moro and Moro Pro are Yamaha's full-suspension, Class 1 electric mountain bikes. On paper they have the basics spot-on:
The 27.5″ rear wheel keeps the chain stay short and the wheel mass light. This favors dynamic downhill action. 

160 mm travel in the front forks is the preferred travel for most situations. Most riders agree that 160 mm is the perfect balance for controlled and shock absorption on rough tracks.  The YDX Moro uses RockShox Revelation RC forks while the YDX more Pro sports RockShox Yari front forks. 

The frame on the YDX range has a patent pending split top and down tube. The split tube increases rigidity while lower the standover height. In addition, it adds a neat styling feature, unique placement of the rear damper, and lowers the COG.

A 250 W, PW-X2 motor, is a winning power plant with several tricks up its sleeve. This e-bike motor delivers potent power effectively and controllably.
On paper then, Yamaha electric mountain bikes should go head-to-head with the big name specialists of the sport.
Yamaha Power Sport has built the YDX Moro, and YDX Moro Pro, on the same patent pending, duel twin, frame. The frame houses a quality 250 watt, high efficiency, PW-X2 motor for pedal friendly electric assist.
Protracted 1,253 mm wheelbase keeps the front planted on challenging hill climbs.  
Power management algorithms on the motor deliver power intelligently to the rear while the slack seat tube angle pushes rider weight back. The combination work in harmony to maximize rear wheel traction. 
On fast, rough, downhill tracks, the slack seat tube angle and long, 160 / 150 mm suspension travel, compliment the extended wheelbase to provide stability.
The key feature of this patent pending frame is the dual crossbar and downtube. This key design feature gives the frame greater rigidity for the weight. The battery nestles neatly into the centre of the downtube and the rear damper pivot fits inside the dual crossbar.
Mounting the damper pivot inside the crossbar allows a lower standover height. This delivers a low center of gravity keeping this e-bike agile for its relatively long wheelbase.
Standover height is the first measurement to take when choosing the correct frame.
The standover height is measured from the ground to the crossbar at a point approximately 70 mm in front of the saddle post.This is the fundamental measurement that a rider needs to ensure the bike frame is correct.
Standover height can never be too low, but it can limit frame selection if it is too high. The rider should be able to straddle the bike comfortably.
In addition, lower standover height translates to a lower centre of gravity (COG). Bikes with lower COG are more maneuverable than higher COG bikes of the same weight.
The PW-X2 has a few hidden gems that set it apart from other motors. 

PW-X2 electric motors fitted to YTD Moro e-bikes are conspicuous as they point skyward. The unusual engine position improves clearance by raising the front of the motor. 

This unique engine angle helps shift weight back in the frame. Weight over the rear wheel improves traction and lightens the front of the e-bike. This makes it easier for the rider to lift the front wheel over obstacles.

These Yamaha electric assist mountain bikes utilize technology developed from MotoGP racing to increase traction.

Sensors in the engine detect tilt angle of the bike. Yamaha PW-X2 electric motors use these sensors to regulate power delivery in critical situations. Engine management sensors monitor sensors to determine tilt angle, gradient of the track, rider pedal force, crank rotation, and speed of the bike.  If the rider is climbing a hill, Yamaha's automated power management will add more power. If the rider is leaning into a corner, the ride management software adds power smoothly. Ride management algorithms interpret rider intent to adjust power delivery. Intelligent power management results in more efficient battery use, while subtle power management helps to maximize traction on loose surfaces.

With cadence support up to 170rpm, the motor also supports the rider at higher pedaling rates than other e-bike motors.

The biggest trick the PW-X2 holds is that the boost feature can double the power output to 500 Watts in short bursts. The power of the PW-X2 engine on the YDX Moro makes steep inclines easy to conquer. 

New helical driven gears, and vibration reducing mounting bracket, minimize engine noise. The PW-X2 is not as quiet as some motors, but it has a change of pitch from earlier models.

Unlike other whiny motors, I found that I didn't notice the engine noise after a while.

The beauty of this motor is in the natural power delivery. More than any other pedal assist motor, the PW-X2 feels as though you have just grown some extra muscles. 
The 500 Watt battery is typical of e-bikes at this price but it is the biggest failing of this the YTD Moro. 
Most e-bike riders (myself included) feel a little let down by current battery capability. The 500 Wh battery sits in the middle of the field with energy output. The battery is good for an hour of hard riding but it would have been nice to have a 700+ Wh option offered by other manufacturers.
The battery does, however, match the price point of the bike.
The Magura 4 pot hydraulic brakes bite down hard on the 203mm rotors to stop you in an instant. They offer a pleasant lever pull and modulation that's perfect for hard braking. If you feel you need more stopping power, Magura also offers after market performance disc pads that can pull you up quicker.
27.5" wheels on the YDX Moro make the bike quick through and easy to move on fast, tight tracks. The combination of 66.3° head tube angle, with long travel forks and shocks, is fantastic for rough, fast, downhill slaloms.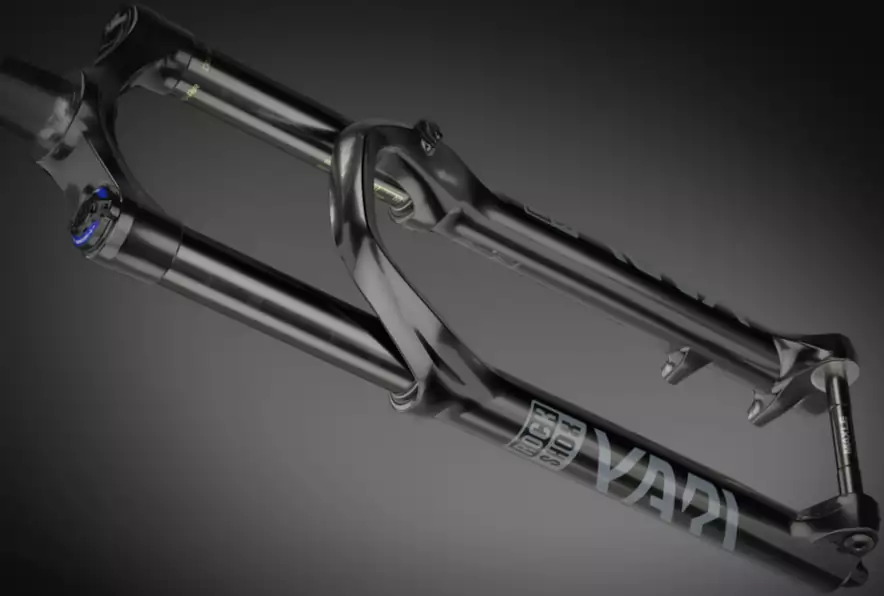 The YDX range uses an unusual but proven frame design with a slack 66.3° head tube angle. This head angle is slack for a competitive MTB. 
The choice of smaller 27.5" wheels and long travel forks show that Yamaha are aiming to for a fun, stable, downhill bike.
Why is Head Tube Angle important?
Head Tube Angle (often referred to as just Head Angle) is the angle of the front forks relative to the ground. If forks were straight up, the head tube angle would be 90°. As we push further the front wheel from the frame, the Head Angle reduces from 90°. A steep angle is tight to the frame. As the angle reduces, they say head tube angle is slacker. 
Head tube angles on full suspension on most mountain bikes range from 66° (a 'slack' head tube angle) to 70° on the steep side. Most riders prefer a head tube angle between 67° and 68°.
Note also that the size of the front wheel and the fork offset impact head tube angle. A 29" front wheel will connect with obstacles a fraction earlier (or further forward) than a 27.5" front wheel. Steeper head tube angle are usually on electric mountain bikes with 29" front wheels.  
Tight head tube angles deliver a faster turning MTB,. Loose head angles improve stability on rough tracks.
Top tube length of 666 mm on the large frame YDX gives a wheelbase of 1253 mm. 
The long wheelbase is appropriate for riders seeking stability rather than maneuverability. It provides a great position for stretching your legs on fast downhill sections.
The 70.3° seat tube is also a very loose angle, allowing riders to get their weight set back on the bike. I prefer large saddle setbacks for downhill. Smaller saddle setbacks allow the rider to get forward over the pedals, which is usually preferred for extreme pedal pumping.
With its no-nonsense handling and incredible stability, the YDX-MORO is perfect for anyone looking to get down the mountain in a hurry. Handling is lively without being too sharp or compromising at speed.
Its low center of gravity, make the bike feel very capable on switchbacks
Yamaha Power Sport has sold millions of e-bikes in recent years and their dirt bikes dominate across every form of off-road racing. It seems incredible that we rarely think of the company as a serious off-road e-MTB manufacturer. 
Yamaha firmly aimed their electric assist mountain bike at riders that want confidence and control on rough downhill trails. YTD Moro e-bikes will put a lot of riders back in the saddle looking for fun .
Ultimate Guide to Powered Bicycles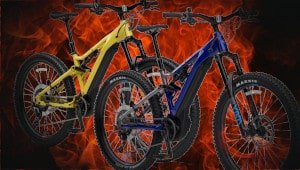 Everything About Power Bicycles
Yamaha Power Sport. The overlooked electric assist mountain bike
Yamaha Power Sport is often overlooked when looking for a full suspension, electric mountain bike. This is surprising considering their dominance in dirt bike racing and their reputation for high-performance, quality products. When you add that Yamaha Power Sport was the first manufacturer of mid-motor e-bikes, and that they have global sales of over 4 million electric bikes, they must be doing something right! We investigate what!
Steve
Steve Baillie holds a degree in electronics and electrical engineering and has over 20 years working in the motorized bicycle industry
Power Bicycle
Publisher Logo