TRIKE DRIFTER _ THE BEST WAY TO GET SIDEWAYS !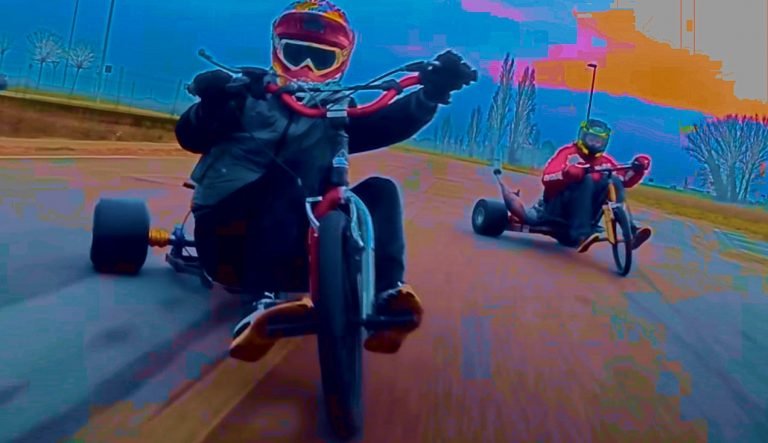 The sport of drifting has been growing in popularity over the past 15 years. Not only is the sport gaining acceptance in automotive circles, but there are growing groups of enthusiasts organizing drift trike events every week-end.
Sliding side-on round a bend is an exhilarating and skilful sport. There is a fine line between the perfect drift and rolling down the sidewalk after losing the tail of your ride. To keep you on the road, and help you get the perfect drifts every time, I cover everything you need to know to get the most from the sport.
CASTORS OR DRIFTER SLEEVES
There are two main styles of drift trike. The first uses castor-style back wheels. These allow the tail of the drift bike to hang out with minimal friction. Alternatively, slider trikes can use low traction rear tires or plastic covered Kart wheels. Slider trikes can be purchased with low traction wheels formed from hard plastic, or fitted with Kart wheels which can be covered with drifter sleeves to reduce rear end friction.
Many DIY enthusiasts build low cost trikes, and I have seen many make-shift drift trikes cut cost by using rear wheels covered with off-cuts from PVC drain pipes.
Castors are great to get drifter action at low speeds. They are fantastic for pedal drifting and 360's. You get all the fun of drifting and are fantastic if you have small hills or a low powered drifter trike.
Drifter sleeves are the most popular option for the majority of riders. Sleeves require a little more speed to get the tail end stepping out, but provide greater control. 
In addition, motorized drift trikes can be driven through the rear wheels. When fitted with drifter sleeves, rear wheel powered motorized drift trikes heighten the adrenaline rush and equip the rider with another level of control.
Drift trikes with motors take the sliding experience to the next level. Whether you purchase a Razor DXT drift trike from Walmart, a Fiik Drifter, or simply build your own drifter bike, the trike drifter experience is intensified tenfold when you fit an engine.
It is thrilling to drift round high speed bends on a slider trike, but you really get the adrenaline pumping when your drift trike is motorized. Not only does speed help you to drift more bends, but you gain an additional level of control and convenience.
With a motorized drift trike, the days of searching for the perfect hill with the perfect gradient and bends, are a thing of the past. No more crashing backward into the sidewalk and tumbling into the gutter. With a motorized drift trike, you have complete control of your speed. You don't have to look for the perfect track and don't have to ask your bro to wait at the bottom of the hill to haul you back up the climb. 
With a motorized drift bike, your adrenaline quest is right outside your door. Any quiet road or car park will do. Simply twist the throttle and you can be drifting on any bend, even on a level road. You and your buds could even mark out a makeshift track in a car park and be zooming sideways along the straight.
For maximum enjoyment, the best drift trikes have a lot to add. I cover everything you need for the best drift experience. I analyze everything you need to know, to build (or purchase) a premium, blood-tingling, motorized drift trike.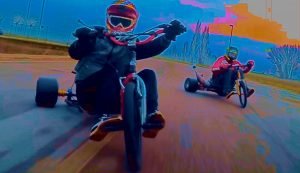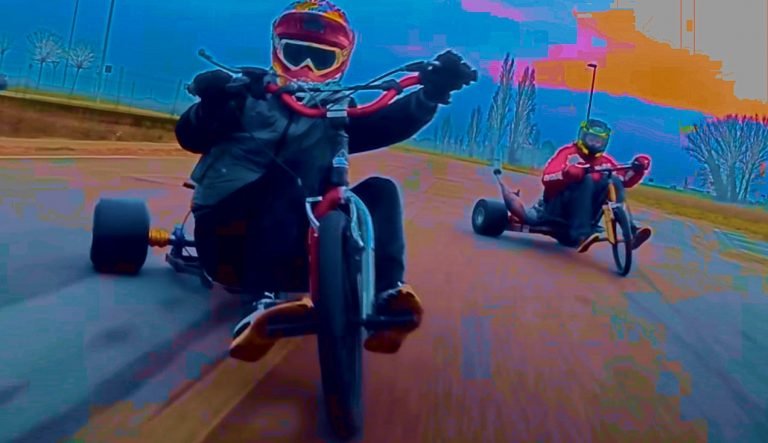 GAS vs ELECTRIC DRIFT TRIKES
As with cars, rear wheel drift trikes afford far greater control for the rider. Skill is required to work the throttle, and you have to work to control the slide.  Throttle control adds a depth to the fun factor as the rider has complete control over how far the tail hangs out. 
Most fun can be had when power is delivered through the rear wheels. This means that rear wheel drifter trikes fitted with drift sleeves gift the rider a better experience.
Although rear wheel power is best, front wheel drive slider trikes still have a place as they are usually a lot cheaper. Front wheel drive drifter bikes can also be fitted with castors on the back. Castors are easier to pull 360 degree spins, and the loose rear end can provide heaps of fun. 
Castor rear ends are better suited for pedal powered drifters. Castors allow the rear end to hang out and make 360 spins easy. Castors aren't, however, suited to off-road use as they clog easily and you feel the small wheels catch if they drop into small holes.
In general though, most drift riders prefer Kart wheels at the rear. Kart tires are fitted with drift sleeves to augment sliding. These wheels are a little more difficult to tail out than castors, but they are more responsive and quicken directional changes. 
There are many different types of drifter sleeves. Different brands vary in sliding characteristics and durability. If you are not sure where to start, POM drifter sleeves are considered by many enthusiasts to be the best option for drift trikes. (see comparison from Cyclorama) 
For the best experience, gas powered slider trikes are usually more powerful, and drive the rear end of the trike giving more fun. Gas lasts a lot longer than most electric batteries, and a quick refuel can have you drifting all day. 
Although gas motor drifter trikes are most popular, 1,000W electric rear axle kits are available for a premium. You can obtain electric rear axle conversion kits for around $50 more than a gas conversion. The downside is that you also need to purchase and fit a sizeable, and expensive, battery.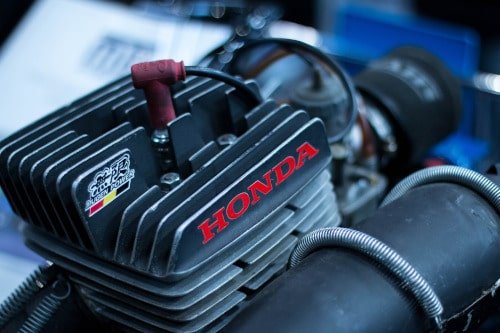 Gas engine kits are the best option for rear wheel conversions. Rear wheel drive gas powered motorized drift trikes are less expensive, more powerful, and lighter. The main benefit is that they don't need to be recharged every 15 minutes. 
A small 50cc bicycle engine outputs around 1200 watts, and that is all that's required for a great slide. It doesn't take much power to slide the back end of a trike. More power is nice but doesn't always translate to better drifts. 
If you are building your own motorized drift trike, your engine needs to have a pull start mechanism. Pull start bicycle motors almost always have an automatic clutch. Motors suitable for drift trikes are, therefore, a little more expensive than bicycle engines.
Although they exist, it can be difficult to find 2-stroke pull start bicycle motors. 2-stroke pull start engines are usually designed for Go-Karts. Although they make great engines, you will often need to purchase, or fabricate, an axle and mounting brackets. Most 4-stroke bicycle motors, and Kart engines, are supplied with pull start mechanisms. 
It is worth purchasing a complete drifter engine kit if you can. Complete gas conversion kits are available on Amazon for around $200. Drifter engine kits contain accessories that will be helpful in motorizing your slider trike (throttle, cables, rear axle and drive sprocket, and chain).
Fabricating the engine and fuel tank mounts can be a big task and you also need to fix the drive sprocket to the rear axle if you are constructing your own axle. There are a number of companies who stock off the shelf motorized slider trike frames, engines, and rear axles to assist the build.
If you are looking for a powerful, off the shelf motorized drift trike, you are spoiled for choice. The most popular engine capacity is 50cc as these provide lots of sliding fun. Gas powered drift trikes are, however, available in a huge variety of sizes and many are powerful enough to be classed as motorcycles.
High on the power scale of quality built, gas powered slider bikes, is the Venom drift trike. Venom fabricates their frames from powder coated, TIG welded Chromoly, and fits the rig with CNC machined components and quality fittings. 
The Venom Drift Trike uses a 208cc rear drive, gas engined power plant, which pumps out a massive 6.5hp. That is a lot for a little slider trike.
The Venom drift trike motorcycle is suitable for teenagers and adults. The space frame can carry heavy riders up to 350Lb (158Kg).
If electric drifters like Fiik can procure video of Will Smith riding their e-trikes, Venom should organize a video of Shaq O'Neal riding their drifter.
The Venom is no lightweight at 143 Lb but if you want the ultimate buzz then it could be worth handing over $2,300 for the ultimate fun package.
The complications of preparing a rear wheel slider trike can be off putting. For this reason, many riders opt for front wheel electric conversions. 
It is a relatively straightforward task to replace the front wheel of your trike with an electric wheel and battery.
An electric front wheel conversion, and battery, can be purchased from Amazon for under $500. Look for an electric wheel that matches the axle width and diameter of the one you are replacing. Matching axle diameter, and width, will minimize any modifications required to fit the replacement powered wheel.
The great news is that front wheel conversions are worthy performers. The front wheel power detaches you from having to search for a hill with good drift curves and perfect incline. You can set up a drift track in a car park if you want to. Castors can also be used in place of Kart wheels at the back if you love popping 360's.
With a front wheel drift trike, you have control of your speed. If you still want to participate in downhill races then the powered front wheel can pull you back up to the top without waiting for a tow, or pickup.
There are drawbacks to front wheel conversions: There isn't a lot of weight over the front wheel, so they can lose traction if you are trying to climb a steep hill. In addition, a powered front wheel can strain the steering head welds. I have seen electric front wheel conversions tramping down the road with the driver and frame left tumbling behind.

ELECTRIC REAR WHEEL DRIFT TRIKES
Rear wheel drive electric conversion kits mostly focus on powering the front wheel. Rear axle electric kits are available but provide less sliding power than 50cc gas engines.  There are few rear wheel electric drift bikes that can be purchased off the shelf.
One electric rear wheel drifter trike for sale as a complete package. The Fiik electric drifter. This bike has all the bells and whistles a rider could ask for in an electric drift trike.
The Fiik Drifter is a full size drift bike for adults. It is powered at the rear by two powerful interconnected 1000W motors. The 2 x 1,000W motors provide plenty of power to have you sliding and spinning, and the Fiik can reach speeds of up to 25 MPH (40 KPH).
The powerful 50 volt, 12.5Ah battery has enough juice to keep you sliding for up to 45 minutes. (Although full-on power sliding can drain the battery in 15 minutes)

Fiik drifter trikes can be purchased for US2,500 (+shipping) from the manufacturer.
Since the surge in popularity of drift trikes, Razor have re-invented themselves as drifter trike specialists. Razor has developed a large range of pedal, and electric powered, drift trikes.
Razor has a high standard for quality to uphold and make reliable, high performance, and great value electric drift trikes. Razor drift trikes rate highly on the best drift trike evaluation undertaken by 'gearhungry'.
Razor's DXT adult drift bike is a well crafted, reliable, cool looking, entry level electric powered drift trike. The trike is driven through the front wheel with a 500 Watt electric motor. A lead acid battery pack behind the seat adds weight to the butt of the rig. The extra load helps keep the tail out for longer drifts.
The heavy 36 volt lead acid battery can provide enough juice to keep the trike sliding for up to an hour.  The torquey 500 Watt motor is good to keep the back hanging at speeds up to 15MPH (25KPH).
If you want all out speed, the 10 inch Kart wheels at the stern provide loads of grip. Quality, high speed bearings on the wheels keep the trike rolling swiftly and smoothly.  Slide on the POM slick sleeves (These are supplied with the trike and considered by many to be the best drifter sleeves) and you will be drifting effortlessly when you're ready to get tail happy. 
The low seat, and weight of battery and frame, equips the DXT with a low Center Of Gravity for sensational stability. This trike feels exceptionally planted.
The Razor DXT is designed for both teens and adults with a sturdy two piece steel frame that will happily take a 200 Lb (90Kg) rider. The comfortable bucket seat and foot pegs can be adjusted to accommodate a variety of rider sizes.
The bike is available from Walmart and Amazon for $680. It is worth searching for specials from alternative retailers. For example, 'Electric Bike Paradise' often provides discount coupons, and additional gifts to tempt potential purchasers.
Razor PowerRider 360 Drift Trike
The Razor PowerRider 360 is a great budget electric drift trike for the kids to get a taste of the sport. Safety is a big concern for children and the low seat  gives the bike heaps of stability. Castor rear wheels afford loads of easy, low speed drifting and 360 spins.
The castor back wheels let your kids get used to drifting at lower speeds.
The steel frame provides excellent strength but remains lightweight at under 33 lbs for the entire trike. 
The cool styling and electric motor of the PowerRider 360 will thrill your young uns. A push button electric motor will pull the trike to 9 MPH (14 KPH), and the battery allows up to 30 minutes of fun before requiring a recharge.
A few reliability problems have been reported with the PowerRide 360, however, Razor customer service is exceptional as you would expect of a top brand company.
The sport of drifting has been growing in popularity over the past 15 years. Groups of enthusiasts are organizing drift trike events all over the country every week-end.
There are two main styles of drift trikes: caster-style back wheels and slider covered Kart wheels (Drifter Sleeves). 
Most drift riders prefer powered wheels at the rear using tires fitted with drift sleeves. Motorized drift bikes allow riders to realize complete control of their speed.
Although front wheel drive drift trikes are cheaper, gas engine kits are the best option for rear wheel drive, sliding control. A small 50cc, 1,200 watt, gas engine is all that is required as it doesn't take much power to slide the back end of a trike. 
The drawbacks of electric bikes are that the battery typically lasts only 15 minutes. Rear wheel drive kits are more expensive, relatively underpowered, and are relatively heavy.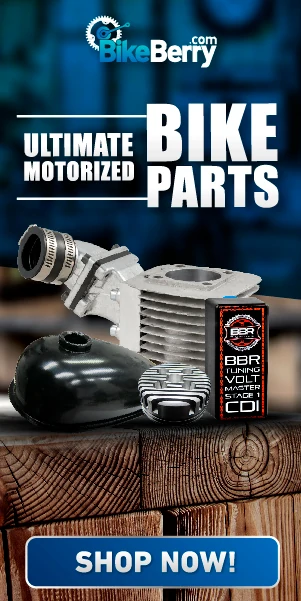 Motorized Bikes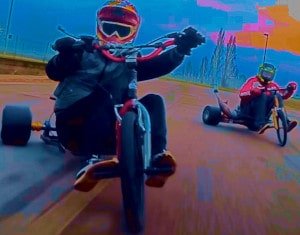 Power Bicycles
Drift Trikes - The Best Way To Get Sideways
Information about motorized bikes
The sport of trike drifting has exploded over the past 15 years. We detail developments in drift trikes and analyse the rig you need to get the perfect slide.
Steve
Steve Baillie holds a degree in electronics and electrical engineering and has over 20 years working in the motorized bicycle industry
Power Bicycle
http://power-bicycle.com/wp-content/uploads/2023/03/skull-logo-300.webp